From lost girl to savior: Honoring Emma Swan's last episode
We bid a bittersweet farewell to Emma Swan in this Friday's episode of Once Upon a Time.
In honor of Jennifer Morrison playing Emma Swan for one last time in 7×02 (cue cries), I've compiled my favorite Emma scenes throughout the six season run of her character. Whether they be funny, bad ass or just so-Emma, they made us fall in love with her character. Trust me, if I can do every moment, I would, but I have midterms to study for! And some of these are Captain Swan moments because I think that was monumental to her story.
Emma telling Hook she loved him for the first time
If we think way back to early Emma Swan, we saw she was a Lost Girl, afraid of opening herself up to others. She was shut off to the possibility of loving or being loved. As the series progressed, we saw Emma start to bring her walls down. It started with Henry, then her parents and eventually, Hook.
It was a BIG deal for Emma to be the first one to tell Hook she loved him. And I was hit with some feels. After not trusting men for so long, seeing her take that step into following her heart was so heartfelt and just detrimental to her character development. Even though she was taken by a black cloud shortly afterwards.
Literally everything about Dark Swan
Dark Swan was amazing, and I wanted so much more of her. It was fun to see Emma, the Savior, fall into such a menacing role. Even though she was still kind of being Savior-like in her own dark ways, she was still pretty crazy. I mean, the girl was insane. Most people don't go around turning dwarves into stone or trying to kill innocent red-heads.
It was exciting seeing her embrace the darkness and pulling Hook along with her. What a wild ride that was, and Jen really killed it as Dark Emma. I got chills with the more emotional scenes in 5A. As I said, I could have totally used more Dark Emma. And Hook, but this isn't about him.
Emma's theme
This whole scene was powerful. Emma realized that she hasn't been alone her whole life like she always thought, that she's always had her family and friends in her life. This was also an empowering scene, seeing Emma decide that the Black Fairy was not going to decide her fate. That Emma was not going down without a fight. And fight she did. Like we saw in this scene, the power of Emma's song ultimately weakened the Black Fairy for the time being and unfroze her family.
Climbing the beanstalk despite not being from the EF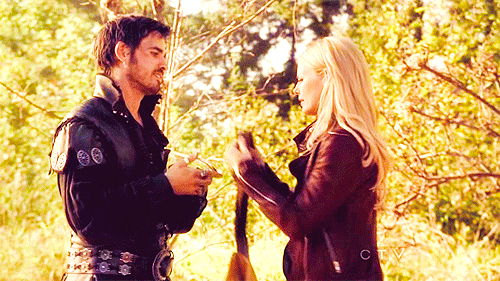 Despite not being raised in the land with magic, Emma decides she's going to be the one to bring Mary Margaret and her back home. Cuffing Hook up, she ascends the beanstalk to get the compass and return home back to her son. Of course there were some hiccups during that climb. Her decision to climb a freaking beanstalk with a man with a hook was so brave. I would have never have done it. Well, if Hook was there, I would have deeply considered…The point being that Emma didn't know what she was getting herself into, yet she still did it. I need to take a page from Emma's book to always try things out of my comfort zone.
Emma punching Gideon (LOL)
HA one of my favorite scenes like ever. Emma was none too happy when she learned Gideon sent her fiancé away. So, to stick it to him, she slaps him right across the face. Drawing blood. Can we say girl power or what? It was fierce and funny. Gideon surely deserved that slap in the face though.
Emma finding her happy ending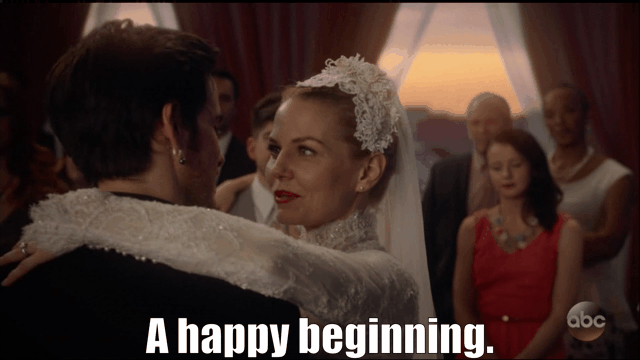 Finally, we see Emma get her much deserved happy beginning with her true love. Out of all the characters on the show, we saw the fight, the struggle and the heart break our heroine faced. Emma Swan deserved that happy beginning, starting anew. And if those new promo photos were any indication, I think we can assume Emma Swan may be carrying her true love's baby. Emma having Captain Hook's baby. ICONIC! After the crappy pregnancy she endured with Henry (shout out to Neal—you suck!), Emma deserved a happy and healthy pregnancy with her man.
As we say a farewell to Emma Swan, we know she'll always be around with a rewatch of seasons 1-6. However, her fight and her relatable character traits will always follow us fans. After all, it's not every day we get a character like Emma Swan. What's your favorite Emma Swan moment? Sound off below!
Feature image via ABC Press site