TV
Here's what you can expect out of 'Empire' season 4 on Fox
Empire returns to Fox on Wednesday, September 27th at 8/7c
The time is almost here! In just under three weeks, Empire will be returning to our screens! They may have a new time slot, but earlier only means better in our books!
Family Focus
While this show has always had family at the center, recent seasons have been a bit crowded with guest stars. That's not to say we didn't love it, but Empire season four is returning focus to the Lyon family. Trust us, there's more than enough going on there to keep you occupied.
Next to the definition of Lyon should involve the word secret written about a hundred times with a couple of betrayals thrown in there for fun. If there's one thing this family excels at besides talent, it's how to cheat each other. This got so serious last season that it ended in a car bomb from Andre that put Lucious in the hospital. Yikes. In Andre's defense, he did attempt to call the whole thing off, just a little too late.
Love that doesn't quit
While we're on the subject of the car bomb, the fact that Lucious saved Cookie at his own expense can't be overlooked. Lucious could have easily charged away from the car himself after Andre's warning, but he didn't. He chose to save the one woman he just can't seem to quit by shoving her out of the way and taking the brunt of the explosion himself. The feeling seems to be mutual if the look of pure devastation on Cookie's face is any indication.
So rest assured that this couple isn't done with each other yet. Demi Moore may have joined the scene as an overly helpful nurse with seemingly good intentions, but nothing comes between these two for long. Their lives have been and always will be intertwined. Not only because of the three children between them, but also because of all they've been through together. Lucious and Cookie may be a seriously toxic couple, but it can't be denied they've been through the darkest times most people can only imagine.
Come and go
Close friend and real life mentor to Terrence Howard, Forest Whitaker has joined the cast this season. He'll be playing a former mentor of Lucious who comes off as the only one the injured Lyon patriarch can trust. But past experience has shown us that relatives and old friends that appear from the woodwork have never been good news. Though, when your family seems out to get you, there's got to be someone you can trust. Right?
We know who we can expect to appear when Empire returns, but can we expect anyone to make an exit? It's a pretty good bet that someone will be on their way out with this show. Another pretty good bet would be that if anyone's got to go, it would be Lucious' mother. We know she's crazy, but there is just something else lying underneath the surface that really makes us anxious.
New CEO, same Cookie
Cookie is now running the company, for the most part anyway. This means board meetings and all the dirty work that goes along with running such a successful company. But is Cookie equipped to handle everything like she thinks? We certainly have faith in her, even if we are a little scared and also excited about the possibility of her diving at someone across the table.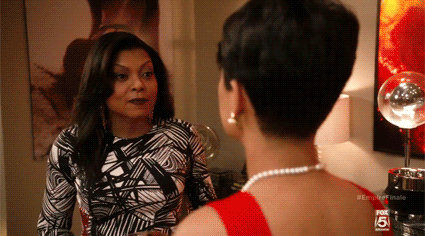 Talk on the street is that while we won't be seeing a whole new Cookie, we will be seeing a whole new side of her. She's aware of how much responsibility lies on her shoulders. Cookie isn't about to risk the company she's worked so hard for. If we're about to get a cooler and deceptively calmer Cookie Lyon, we're here for it. Hell, there's nothing more we could ask for from our favorite matriarch.
Are you excited for the new season of Empire? Let us know in the comments below! Don't forget to check Pure Fandom every day for all your entertainment needs!
Check out the trailer for Empire season four here!
Watch Empire Wednesdays at 8/7c on Fox beginning September 27th. Follow along with my live tweets during the show @Sarah_Jeanne17!
Featured image via Fox
GIFs: Giphy and Fox