Batman Day is going to get a little…crazy…this year. To celebrate Harley Quinn's 25th anniversary as a character, she will be taking over the annual comic holiday, September 23rd.
Harley Quinn's 25th anniversary celebrates her introduction into Gotham in Batman: The Animated Series. In September of 1992 the world was introduced to the female henchman of the Joker, and she was a hit! September of 1993 Harley appeared in her first ever comic Batman Adventures #12 (and it's a pretty penny for it). I would expect to see just as much excitement next year in celebration of what will be her 25th anniversary for the comics, but maybe I'm a little biased.
With Harley Quinn continuing to rise in popularity due to appearances in Suicide Squad, The Lego Batman Movie, and Batman and Harley Quinn, it's no wonder her anniversary is a big deal to fans. She resonates with those who have loved her since the start, and also has a special place in the hearts of new Harley fans. (Not to mention, she is one of the biggest merchandise sellers for DC.) She deserves this attention!
Batman Day Takeover
DC Comics has let us know that Harley Quinn will be taking over Batman Day, September 23, 2017, but they're keeping hush on a lot of the details. We know she's got her own logo for it and they're going to give us more details as we get closer…but that was in July. It's already September and almost here! *anxiously waiting*
DC Comics also announced during the San Diego Comic Con panel for Harley Quinn's 25th anniversary that she would be getting a special surprise. Harley is supposed to take over other cover art for a week in September. Expect some of your other favorite DC characters to be getting a cover or variant featuring the clown queen.
DC has also said during their panel that there would be some free Harley comic stories available at local comic shops in celebration, similar to Wonder Woman Day 2017. Definitely get in on that action!
New Reads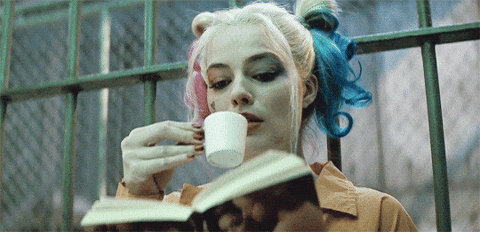 The Harley Quinn Anniversary Special #1 will be hitting stores September 13th. This collects a few one shot tales of Harley, including a heist with the Joker and what really happened in Vegas with Ivy and Catwoman during The New 52 road trip special. You might want to pick up all three separate covers as special editions and variants are going to go fast.
Harley Quinn: A Celebration of 25 Years will also be coming out in September. It features some of the best moments of Harley Quinn by the acclaimed writers and artists that have been working on her stories for years.
For those looking for a complete catching up on Harley's New 52 stories, look no further. Harley Quinn Omnibus Vol. 1 collects all of her New 52 issues including specials, holiday features, and her adventure with Power Girl.
Harley's Future
Harley Quinn's 25th anniversary shows a fantastic run so far, with comics, live-action movies, and the Batman Harley Quinn animated team up recently in theaters. So what comes after 25 years? Well, DC Comics has given us a few sneak peaks at what to expect in Harley Quinn's future. Harley's now been a resident of Coney Island for a bit of time and it looks like she's going to be running for office in future issues.
We're also expecting a Gotham City Sirens movie in Harley's future as pre-production rumors started circulating December of 2016. Margot Robbie would be reprising her role as Harley Quinn and there's speculation that Black Mask may be the main villain.
There are some further theories about the DCEU movies, suggesting there may be a Joker origins which could possibly feature Harley Quinn. On top of that, there are other rumors floating around that DC is finalizing contracts for an unnamed Joker-Harley movie in the DCEU. All of this on top of a Suicide Squad sequel means lots of Harley for us!
So thank you DC Comics for giving us 25 years of Harley Quinn, and we're so ready for what you bring next. What are some of your favorite Harley moments over the past two and a half decades? Share with us!