I matched Once Upon a Time characters as a Taylor Swift song!
What do I love more than this show? Taylor Swift. There are tons of Taylor Swift songs for the various moods you may be in, but there are also Taylor Swift songs that relate to the main characters. Also, it's an excuse for me to blast Taylor Swift while writing this.
To save from having you read a novel, not all the main characters are listed below.
Emma Swan: "Fearless"
One word I associate with Emma is definitely fearless. This song matches the Emma we saw in the season 6 finale who dove "head first fearless" into a happy beginning with her family and husband.
This song is all about taking risks, doing things that make you happy and just being free. And I think that as Emma's character progressed throughout the series, we saw her taking risks: falling in love, believing in magic, forming a bond with family and friends.
If this lyric doesn't explain her first real kiss with Hook, I don't know what does: "You pull me in and I'm a little more brave
It's the first kiss, it's flawless, really something, it's fearless."
Killian Jones (Hook): "Better Than Revenge"
What was the one thing Hook craved in season 2? Revenge on Rumple for killing his love, Milah. (Let's not talk about that because NOTP.) Hook thought "there is nothing [he does] better than revenge."
We also saw in the musical episode in season 6 that Hook was revenge-thirsty for a century or so until he finally got to Storybrooke to begin his revenge. Which didn't turn out to be how he thought it would be. He wasn't too great at extracting revenge like he thought.
Obviously, Hook is not getting revenge on an ex-boyfriend, but just like Taylor, he wants revenge on the person who screwed him over. And he was just as determined as Taylor Swift was.
Mary Margaret Blanchard (Snow): "Love Story"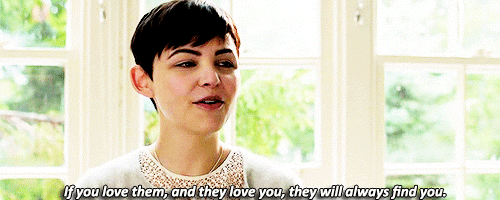 If there's one thing Snow believes in, it's the power of a true love story. She knows that love isn't easy, and it has to be fought for. But everyone has their own love story to be told.
Taking a look at her and Charming's love story, their "love [was] difficult but it's real." Snow was a princess and Charming was a shepherd. However, even though she tried to ignore her love for him, she fought for it. "Love Story" is Taylor Swift's classic forbidden love song; she too loved a guy she couldn't have.
In the end, Snow knew one thing: she loved Charming and "that's all [she] really knows."
Regina Mills (Evil Queen): "Bad Blood"
Going back to Regina's days as the Evil Queen, it's safe to say she had quite the bad blood with, well, everyone in Storybrooke. But Regina also shared some bad blood towards Snow White specifically.
Regina was mad at Snow for telling her mother about the stable boy, so Regina enacted the curse years later to get back at Snow. Her logic was that "these kinds of wounds they last and they last." She never thought the hatred she felt towards Snow would dissipate.
Even though Snow apologized to Regina for what she caused, Regina believed she said "sorry just for show." Thus, it spiraled into some bad blood towards almost everyone in Storybrooke.
Mr. Gold (Rumpelstiltskin): "Haunted"
Suffice to say, Rumple is one haunted dude. Rumple chose to be the Dark One over being a father to Bae, he knew he "can't trust anything now
And it's coming over [him] like it's all a big mistake."
When he lost Bae, he knew that he had made a mistake; nonetheless, he still chose the hollow, haunted feeling of being the Dark One. Taylor Swift talks about being left alone, wanting for that person to come back. Just as how Rumple felt when he lost Bae and Belle walked away from him.
That fragile line had broke for him and all that was left was the feeling of being haunted by his past decisions.
Who would have ever thought I would be able to pair my favorite musician with my favorite T.V. show?  It's not surprising how well Taylor Swift's music pairs with a show about fairy tales because Taylor is a queen too.
Feature image by Amino Apps