Supernatural
TV
6 'Wayward Sisters' predictions we have for the upcoming spinoff
Even though filming for the 13th season of Supernatural just started, we're already excited for the backdoor pilot for Wayward Sisters. The spinoff has generated loads of hype—fans are ready to see the new show and what it's like compared to Supernatural. To get everyone even more stoked, we came up with 6 Wayward Sisters predictions that we're dying to see come true. Let's get right into it.
1. Appearances from Donna, Alex and Claire
Look alive, everyone: rumors have been floating around that Briana Buckmaster is in Wayward Sisters as fan-favorite character Donna Hascum. It'll be awesome to see her balance out Jody Mills (Kim Rhodes) once again. And since Jody is the main focus, it's easy to assume her adopted daughters will be in the show as well. Claire Novak (Kathryn Newton) and Alex Jones (Katherine Ramdeen) have shown they can hold their own, and we're hoping to see them onscreen regularly.
2. Supernatural cameos and guest-stars
Give us allllll the guest stars. Hopefully a Dean and Sam scene every once and a while isn't too much to ask for. And how awesome would it be to see other familiar faces like Cas and Rowena (if she's alive)? Even adding some Supernatural jokes to the mix would be a welcome element. Imagine Jody trying to find a car, seeing an Impala, and saying, "Nah." We're still excited to see what new things Wayward Sisters has in store, no matter what.
3. Tie-ins with Supernatural's storyline
Let's be real: Sam and Dean Winchester do some stuff that affect the entire universe. Because of this, the women of Wayward Sisters might have to deal with the aftermath of some Winchester choices. That'll bring an interesting point of view that Supernatural viewers don't get to see that often: everyday hunters or even regular people.
4. Episodes written by Robbie Thompson
Robbie Thompson is the writer behind many fan-loved episodes, including "LARP and the Real Girl", "Fan Fiction", "Baby" and "Don't Call Me Shurley". Thompson created the character Charlie Bradbury and wrote a lot of the episodes she was in. He also lobbied hard against killing her off (although that happened anyway). He announced his exit from Supernatural and is pursuing other projects, but that doesn't mean he couldn't come back to join Wayward Sisters every now and then.
5. Bringing back dead characters
#JusticeForCharlie, #JusticeForEileen. Charlie especially was a huge force in the Wayward Daughters movement that many Supernatural fans latched onto. It lauded the strong, kickass female characters that held their own in the crazy world of the Winchesters. Who's to say that Chuck won't pop into an episode of Wayward Sisters and bring one or more of them back? We can dream, can't we?
6. So. Much. Representation.
As a show that will largely feature female characters, there is some real potential for Wayward Sisters to represent lots of different women. Eileen's character was amazing—she showed that being a deaf woman didn't mean that you were a worse hunter. On the contrary; she was one of the most compelling new characters Supernatural has introduced in a while. We're looking forward to seeing all the different kinds of women that Wayward Sisters could include in the new series. We can't wait to see Jody and company in action.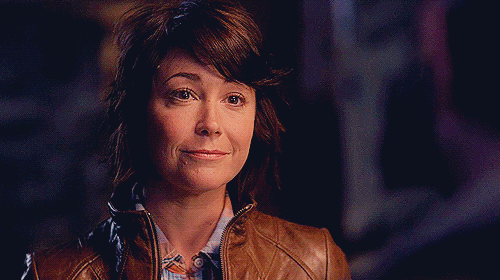 What do you think will happen? Let us know your Wayward Sisters predictions in the comments! And check out our Supernatural fan page for more awesome content!
(Featured image via denofgeek.com)