Supernatural
TV
4 reasons we're excited about the new 'Supernatural' spinoff 'Wayward Sisters'
It's only been a few weeks since season 12 of Supernatural ended, and honestly, we're still recovering. But some new news came out recently that has us even more excited for season 13. Two words: Wayward Sisters.
What is Wayward Sisters?
Wayward Sisters is the name of a proposed new Supernatural spinoff. The spinoff will feature fan-favorite character Jody Mills (Kim Rhodes) and a ragtag group of young women who fight monsters. Essentially, it's a group of badass female hunters. And we here at Pure Fandom are already stoked about it.
Why should we be excited?
We're very glad you asked. Here are some of our top reasons why we can't wait for the backdoor pilot for Wayward Sisters to premiere.
1. Returning characters
It's already been confirmed that awesome lady-cop Jody Mills will be returning. It's also been rumored that both the girls that Jody takes care of, Claire and Alex, will appear heavily in the show as well. Even though a lot is already known about these characters, it'll be interesting to see how they function in the world of Supernatural while the Winchester brothers aren't around.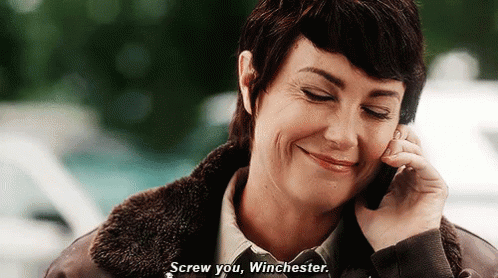 2. Different storylines
Sam and Dean Winchester are often involved in plotlines that seem to affect the course of the world pretty regularly. So what does the world look like from a smaller scale while they're dealing with that stuff? Hopefully we'll find out with Wayward Sisters. It'll also be cool to see how the women deal with things that Sam and Dean miss.
3. Butt-kicking female roles
Supernatural fans have long loved female characters like Jody Mills and Donna Hascum for their wisecracks, intelligence, and kindness. Not to mention that both of those ladies managed to hold their own in whatever episodes they were in. With losses like Charlie and Eileen, fans started to rally behind strong female leads in Supernatural. Now that they're getting their own show, you can expect a lot more where that came from.
4. A change of pace and formula
According to the information we know so far, Wayward Sisters will shift the focus from world-altering problems to helping fellow hunters. This will remind fans of the first few seasons of Supernatural, when it was simply the Winchester brothers against the monsters they tracked down. Count us in.
Of course, not much is known about the show right now. What we do know is that the backdoor pilot for Wayward Sisters will premiere during season 13 of Supernatural. So I guess we just have to hold onto our excitement until then!
What do you think about Wayward Sisters so far? Let us know in the comments, and check out our Supernatural fan page for more stuff about everything Supernatural, like Which Supernatural character you are based on your zodiac sign!