Our zodiac signs can be so accurate to our personalities, it's scary! Sometimes it can be as terrifying as a zombie horde. To find out which iZombie character you are eerily similar to, read on!
Aquarius – Olivia "Liv" Moore (January 20th – February 18th)
If you're an Aquarius, congrats you're a zombie! Just kidding. As an Aquarius, you and Liv are both independent. You fight for what you believe in and are good listeners. Liv is always there for her loved ones! She's able to see without prejudice, and you probably do too. Aquarius are arguably the best problem solvers. Your perfect love match is a Leo, so go find yourself a Major!
Pisces – Ravi Chakrabarti (February 19th – March 20th)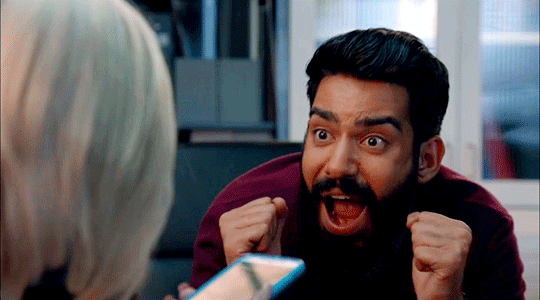 Pisces are compassionate, wise, and selfless. Ravi is always helping friends and loved ones,sometimes enemies too, never expecting anything in return. Like Ravi, you may seem spiritual and gentle, but still have an inner fire that can't be smothered. You would be best suited with a Virgo. So find someone who challenges you like Peyton does Ravi.
Aries – Detective S. Cavanaugh (March 21st – April 19th)
Aries are courageous, determined and as a consequence can be aggressive. All perfect traits for a detective like Cavanaugh. We don't see him often, but when we do he is always taking action. Like Cavanaugh, you're most likely an organized leader who is capable of balancing too. Aries are honest and passionate. You'll find love or friendship with any Libra. Cavanaugh never met Lowell, but if they had, they definitely would have gotten along.
Taurus – Dale Bozzio (April 20th – May 20th)
Taurus are reliable and patient. Dale stood by Clive steadfast like only a Taurus could. You both are practical and responsible, but can be rigid at times. However, when the chips are down, a Taurus is who you want standing beside you above all. Dale had Clive's back as often as she could. You are perfectly suited with a Scorpio. So, hopefully you find your Clive. However, hopefully secrets wont tear you apart like Dale and Clive.
Gemini – Blaine DeBeers (May 21st – June 20th)
Gemini are adaptable, curious and learn quickly. No doubt all qualities Blaine possesses. Similarly to Blaine, you are always ready to flirt. Blaine is forever seeking new clients. Meanwhile, you are probably always trying to find new people to talk to. If you're looking for a love match, or perfect partnership in Blaine's case, look no further than the Sagittarius.
Cancer – Drake Holloway (June 21st – July 22nd)
Are you tenacious, loyal, and emotional? If so, not only are you a Cancer, you're like Drake! Cancers are very attached to those they let get close. Consequently, your emotions guide you more often than not. For an undercover cop, this is probably not great. On the other hand, you both learn from mistakes and rarely repeat them. So, you fit perfectly with a Capricorn. Drake would have made an awesome partner to Vivian.
Leo – Major Lilywhite (July 23rd – August 22nd)
Major is the ultimate Leo. Creative, passionate and humorous, the Leo is a born leader. Presumably, so are you! Major always treats others with dignity and respect, rarely raising a hand or a weapon. You both achieve anything you put your mind to. No doubt, all this makes the Leo hard to resist. I wish you luck in finding your Aquarius, who is your perfect match. Hopefully without the whole zombie part, of course.
Virgo – Peyton Charles (August 23rd – September 22nd)
Our favorite ADA is clearly a Virgo. Peyton is loyal to a fault and hardworking. So you probably share these traits with her too. Chances are you're both kind and practical, but can be overly critical of yourself. As a Virgo, you both catch the smallest details and possess a deep sense of humanity. When you find your Ravi, don't let anything distract you, because a Pisces is who you belong with.
Libra – Lowell Tracey (September 23rd – October 22nd)
There is no better Libra than Lowell. So gracious, fair minded, and gentle. If you're a Libra like Lowell partnership is extremely important to you. You're peaceful and fair as a result of a keen mind. Similarly to Lowell, you probably can't tolerate injustice. Therefore, an Aries like Cavanaugh could be your best friend, as they're compatible with the Libra.
Scorpio – Clive Babineaux (October 23rd – November 21st)
Clive is no doubt a true Scorpio. He is resourceful, brave, and passionate, as all detectives should be. You probably also have a stubborn streak. Scorpio are known to be determined and decisive. Clive always strives to find truth through facts and is a great leader. You're both calm and cool, but can be distrusting. A Scorpio belongs with a Taurus, so if you find the Dale to your Clive, try not to keep secrets. Especially the possibility of an all out zombie war.
Sagittarius – Don "Don E" Eberhard (November 22nd – December 21st)
Sagittarius are known to be impatient and brutally honest. This is definitely the case when it comes to Don E. Curious and energetic, Sagittarius have an open mind and as such, are definitely extroverts. Don E possesses the sense of humor that comes with being a Sagittarius. Ultimately, his partnership with Blaine wasn't perfect and Don E was sometimes taken advantage of, but they were good friends. That's because the Gemini is your perfect match.
Capricorn – Vivian Stoll (December 22nd – January 19th)
The responsible, disciplined, master of self control sign that is Capricorn. Vivian came in ready for a war. You probably also share the qualities of being practical and well grounded. As a Capricorn, you learn from mistakes and get to the top based on experience and expertise. Vivian and Drake would've made an excellent team, as Capricorn and Cancer are a perfect match.
What did you think? Did the iZombie character match up with you and your sign? Let us know who you are most like in the comments below! 
And check our CW page here! And be sure to watch iZombie Tuesdays at 9/8c on The CW!
(featured image via The CW)