It was announced that Once Upon a Time will have a new season in the fall. However, with that news, we have also received official statements from cast members who will not be embarking on a new adventure. Those cast members being Ginnifer Goodwin, Josh Dallas, Rebecca Mader, Emilie de Ravin and Jared Gilmore. And, of course, Jennifer Morrison will not be returning either. We've embarked upon their characters' journeys for 6 seasons, I feel we deserve to honor them!
Zelena (Rebecca Mader)
Whether wicked or good, Rebecca Mader took us on an adventure with her portrayal of the Wicked Witch. Zelena was insane, and we loved her for that. I was always intrigued with her character. As I stated, she was insane, but deep down, we knew she could change to become good. (Remember when she chopped off her own hand though?!)  And after a while, she found the goodness within her. I adored her when she was wicked; Bex played that role so well! In season 6, we saw her wicked exterior disappear almost completely. She's grown so much since the witch we met back in season 3. Bex is a wonderful actress, and Oncers were lucky to have her. She'll be missed!
David/Charming (Josh Dallas)
Saying goodbye to David is going to be so hard after Sunday. He has really grown on me since season 1. I just love all the dynamics with him and different characters. David was, of course, charming, but he was also a character who was just all around awesome. I loved his relationship with Emma, reveling in the joy of having found his daughter. He's super caring for those he loves, which I love. However, he wasn't afraid to throw a good punch to those who wronged him. I will miss Josh Dallas's portrayal of Prince Charming. Especially his interviews with the cast!
Mary Margaret/Snow (Ginnifer Goodwin)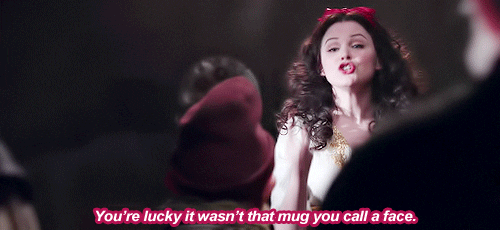 Thank you, Ginny, for bringing such an iconic princess to life. I could always rely on Snow's hope speeches to get me through a rough ending of an episode. I think the whole fandom can agree that Snow was the most positive character on the show. Snow was the perfect blend of sweet, but could also be fierce. Bandit Snow, anyone!? We saw a whole other side of Snow White during Ginnifer's time of playing her. Much like Charming, Snow loved deeply and she gave the fandom hope. I will miss her continuous hope speeches! Ginnifer was Snow White come to life.
Belle (Emilie de Ravin)
Oh Belle, how I will miss your optimism of seeing the best in everyone. Also, your love of books and outwitting people with your knowledge. We've seen Belle grow throughout the series. Although, I don't agree with some of her decisions, this season, we really saw her take life into her own hands. We saw her go off on her own when she felt Rumple was not the best for her at the moment. Emilie really embraced Belle's essence, and she will be missed!
Henry (Jared Gilmore)
Henry was the spot of innocence and believing in the show. After all, he held the heart of the truest believer. We've literally watched Jared grow up right in front of our eyes! I think we can agree we will miss Henry's bond with Emma and Regina. I've always adored Henry and Regina scenes because he really melted her exterior. His belief in magic and hope and happy endings was a refreshing factor in between all the doom and gloom in the show. Until the end, Henry wanted nothing more than to see the ones he loved happy. Sigh, we wish you luck, Jared, in your future endeavors!
Well, Oncers, this week has been rough. It'll be hard to let go of characters we have grown to love, but we were lucky to have joined them on their journey! Each character brought to life their own uniqueness that made us addicted to the show. I will miss seeing them on my screen each week. Thank you to all for giving fans the magic!
Will you be tuning in for season 7? Sound off below!
Feature image by celebuzz.com