A little secret…when I began watching Once Upon a Time, Regina Mills was my favorite character. I am a fan of villains, and Regina was just so complex and interesting. Obviously through the seasons my shift of favorite characters has shifted, but Regina still is awesome. Her sass speaks to me.
Her love for Henry
My favorite nonromantic relationship on the show is definitely between Henry and Regina. When we first met Regina, she was pretty much the definition of pure evil. However, with Henry, her heart expanded and softened. She was and continues to be so gentle around Henry. Not to mention she puts him before anything else. I find their relationship so real and meaningful. Under her steel exterior, she found it in her to love her son when she believed she would never love again. Neverland spoke for her love of her son when she was willing to do whatever it took to save Henry from the Lost Boys.
Her sass is just right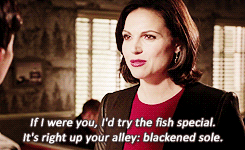 As someone whose second language is sass, I love Regina's sass. She knows how to execute her sass without being too overdramatic. While I get super defensive about Hook because he's my favorite character, her sarcasm and sass towards him always makes me laugh. My goal is to have her sass level. My favorite line was from 5A was when Hook and her were arguing. "Maybe you like having a hook; maybe you'd like another one," she threatened.
The quest for redemption
There has been a lot of redemption on this show. As I said before, season 1 Regina was pure evil. Even season 2 Regina was pretty dang evil. By the time season 3 rolled around, we saw Regina's heart start to soften. The quest to save her son helped her come around. Then when Robin came along, the evilness we once saw in Regina was no more. Take the season 3 finale for example. To defeat Zelena's time portal, only light magic could stop the curse. Zelena scoffed, telling Regina that she's evil, but Regina proved her wrong.
Sure, she still has her moments, but that's more of anger than evilness. Her separation with the evil part of herself in season 5 was a telltale sign of Regina wanting to be good. She no longer wanted to be The Evil Queen; she wanted to be a hero. And can we talk about her last battle with The Evil Queen? Let's! In that scene, we saw Regina embrace who she was and came to terms with herself. She found it in her to love who she is. Loved that message!
She's a woman who kicks ass
I have probably expressed this a few times, but one of my favorite aspects of this show is how kick ass the women are! Regina doesn't take any crap from anyone, and she always demands respect. She doesn't need a man to save her because she can do so perfectly herself. Battling the darkness within her was never easy, and we saw her inner struggle with that. Despite that, she was able to kick the darkness' ass and be the woman she wanted to be. Not to mention her strength of losing another loved one when Robin was killed. Instead of cursing the town again, she handled his death super well. It's because of her renewed strength.
For the past six seasons, we have seen Regina overcome darkness, love and redemption. She's been fun to watch her progression from villain to hero. I can't wait to see what Regina has in store for her for the rest of this season!
Feature image by tumblr.com