Schitt's Creek – the Canadian comedy that you may not have heard of but I guarantee will change your life. If you're a fan of witty sitcoms that make your abs hurt when you're done watching because you laughed so hard (think Unbreakable Kimmy Schmidt and New Girl), then this one's for you.
The show follows a wealthy family of four who are incredibly detached from reality – the Roses. When they lose everything, all that's left to their name is a small town called Schitt's Creek… which is pretty much exactly what you would imagine. Forced to move there and live in a run-down motel, they learn to navigate a foreign way of life – being poor.
To be honest, when I first stumbled across this series on Netflix, I thought, 'What the actual french toast sticks is this?'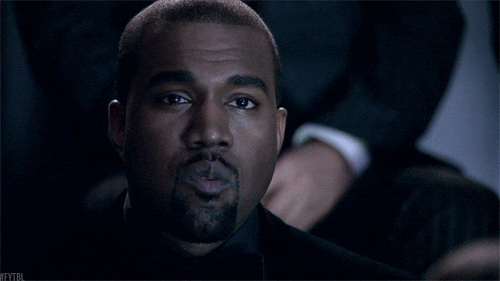 A show called Schitt's Creek – I think not. Then, it kept popping up as a recommendation, and I was all like…
I gave in and decided to watch it, and holy smokes am I glad that I did. I've also been pressuring everyone I know to watch it which might actually be scaring them off more than anything, but I'm just a very passionate (and generally overly-aggressive) person.
Here are 5 reasons that you should binge-watch Schitt's Creek on Netflix if you haven't already.
1. Daniel Levy as David Rose
Guys, I found my spirit animal. His name is David Rose. Portrayed by Daniel Levy (who co-created the show along with his father, Eugene Levy), David is a unique character and might be the most "normal" member of the family. He also has a pretty eclectic collection of sweaters. Oh, and he has a hilarious, signature facial expression that always makes me laugh and looks something like this: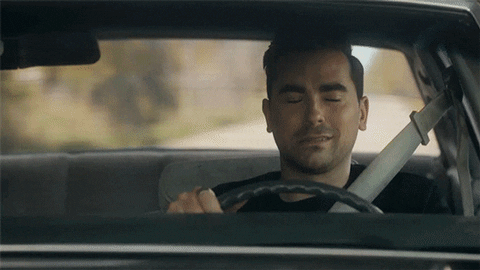 You're going to fall in love with him.
2. The one-liners
I'm obsessed with a show that can give me incredible one-liners that I can use in my every day life. Schitt's Creek might be the king of them. From, "it's my turn to take a selfish," to "never let the bastards get you down," you're going to be quoting the sh*t out of this show. Scout's honor.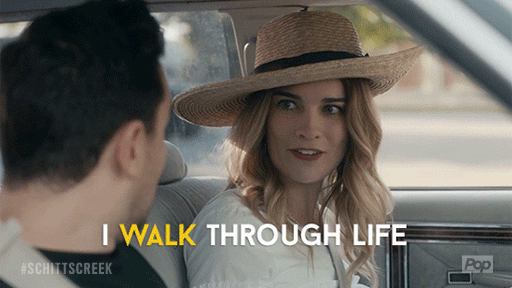 3. The way Alexis (Annie Murphy) says, "Daviiiid"
Just trust me.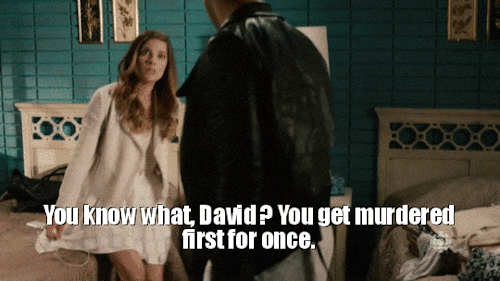 4. Moira Rose
Moira (Catherine O'Hara) is everything. She's a damn goddess, but she might be the most blissfully unaware of how the real world works (okay, maybe a tie with Alexis). Her confidence never waivers, though. She also wears vests over her pajamas to bed, so there's that.
Side note: Moira and Johnny's (Eugene Levy) marriage is total #relationship goals, especially when they do their weird role playing thing that's both cringe-worthy and adorable.
5. The theme of family and friendship
Moira might openly prefer her son David over Alexis (Annie Murphy), but she loves her family fiercely. In fact, the whole family has a funny way of showing it, but they have one another's backs, always. The heart of the show is about the unbreakable bond of a family when faced with great trials.
The supporting cast is just as stellar as Daniel and Eugene Levy, O'Hara, and Murphy. The people of Schitt's Creek serve to show the family what real friendship really means, in ways that are both comical and heart-warming.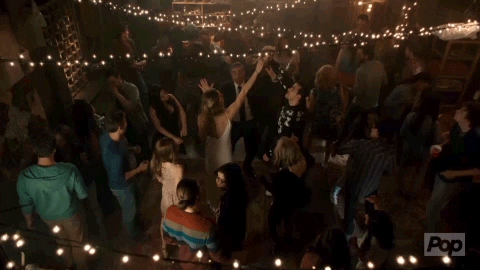 Honorable mention to the brilliantly sarcastic Stevie (Emily Hampshire) for her unwavering facial expressions and ability to deal with all of David's nonsense.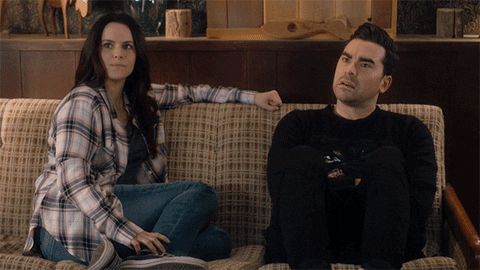 Schitt's Creek's season 3 just wrapped up on Pop/CBC, but you can binge-watch seasons 1 and 2 now on Netflix. You can thank me later.
(Featured Image courtesy Andrew Eccles/Vanity Fair)