Ladies and gents, how are we all coping with no weekly The Vampire Diaires episodes? Yup, I'm not over it ending either. And just to top off all the sad feels we still have, I've decided to do a dark and gloomy post on Stefan Salvatore (soz, guys!).
I will apologize profoundly in advance, but c'mon, we really do have to discuss the hero of the show, Stefan. I know, feelings are still raw over his death *still sobbing*, which is why I wanted to gather up some of his saddest scenes and put it all together in a post. 'Cause let's be frank, Stefan has had a lot of s**t happen to him throughout his life, so I wanted to talk about that.  Yeah, I know, you'll probs hate me later, but we may as well have more things to cry over, right?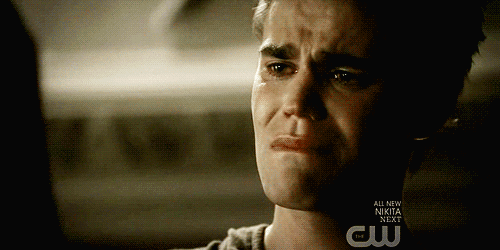 I hope you have the tissues ready!
Let's take a TVD flashback and relive 8 saddest Stefan Salvatore scenes.
#1 Stefan's heart-wrenching death scene in the S8 finale.
https://www.youtube.com/watch?v=_xlbfLfUdYY
I have no words to say here other than: UGLY CRYING COMMENCES.
#2  The Stelena break-up scene in S4
Oh, how our heart broke for Stef here. This was the official end to Stelena, and I don't think either of us were ready to say goodbye to that.
#3 When Silas appears and locks Stefan in a safe. Then, pushes him into the lake where he drowns over and over again
The doppelgänger drama never seems to end.
#4 Stefan's first death scene in S5.
https://www.youtube.com/watch?v=srmfpnB8czc
Caroline's reaction to Stefan dying stole the scene. Candice Accola's acting skills were really on point here!
#5 The scene where Damon kills Lexi, and poor Stef (unable to help), had to watch his BFF get killed thanks to his own brother
https://www.youtube.com/watch?v=TI2Jgu_Zmuo
Damon, I really hated you for this. I'm still not over you killing Lexi.
#6 When Stefan calls Elena on her birthday, unable to speak, but Elena talks for him and tells him, "I love you, Stefan. Hold onto that."
https://www.youtube.com/watch?v=N5puDxEykgc
Even though Stefan had turned off his humanity switch (due to his deal with Klaus), you could tell how much he wanted to just feel everything in that moment for Elena. This proved how powerful their epic love was. Ugh, the Stelena feels were strong here!
#7 The scene in S3 where Elena tells Stefan she kissed Damon
https://www.youtube.com/watch?v=5rBEB3VQESI
How painful must it have been for Stefan, not only knowing he was losing his girl to another man, but that man being his own brother. Poor Stef!
#8 The scene in S7 where Damon tries to search and save Stefan before it's too late. Since he was suffering out in the cold, due to being stuck in a human body.
https://www.youtube.com/watch?v=UnGV4InSeYg
This episode was all about the emotions tied to their brother-ship. Despite both of their mistakes in the past, the two realized they really cannot live without each other.
These were just 8 of Stefan's saddest scenes, but let me know what you think the saddest scene was for him. Hit me up with all your thoughts and feelings in the comment section below. And don't forget to give us a tweet at @Pure_Fandom and @OhMyZinaa. Make sure to keep up-to-date with all TVD news and posts here! Also, I hope you tune in to the brand new season of The Originals.
Love always,
Zina
The Originals airs Fridays at 8pm EST on The CW. 
(Image credit: Quantrell Colbert/The CW)