TV
'Reign': Best moments from 4×03 'Leaps of Faith'
Reign's 'Leaps of Faith' aired on Friday, February 24, 2017.
You guys, Reign has been ON FIRE this season. It just started and it's already making me bite my nails, cry, scream, and basically go through a rollercoaster of emotions. After Friday's episode, my neighbors probably think I'm insane. Anyways, Reign's 'Leaps of Faith' was an incredible episode from plot twists to acting to cinematography. And if you don't know, I'm a sucker for good cinematography. I sometimes daydream of marrying a DP so my wedding video will leave all of my cousins in shame. Now, back to why we're all here. There were sooo many great scenes to choose from, but here's the winning list of best scenes from Reign's 'Leaps of Faith'.
Sainte Claude (let's keep it française, shall we?)
"She is a miracle worker!" pic.twitter.com/PrdhR9nyao

— Reign Scenes (@reignscreencaps) February 26, 2017
I am so proud of Claude for letting her heart out and properly mourning Leith. We can't all be robots like little miss Queen Leeza of Spain-in-the-ass. Claude was telling the Lord of her woes when a very loud and rude Cardinal decided to try and light the entire chapel on fire. Sainte Claude arrived to help the insufferable clergyman and one of her pre-destined tears fell on the very undeserving old chap. Then, voila, he was healed! Claude took a page out of Beyonce's book to look like the original Madonna and wow did things get blown out of proportion. In the end, it was a fantastic, yet short lived, twist. I'm still laughing because remember how Claude had to be checked by the Vatican to A-OK her virgin status and momma dearest was like, "Look, here's some money. Kids will be kids, am I right?"
Catherine with Baby John (RIP Francis, the best king France could have had)
My heart will not go on, Celine Dion. This moment was so tender and beautiful. However, it definitely irked me that Catherine did not say "oooh my darling grandson". We get it, he's a bastard, but gosh darn woman, he's yours! Catherine is still protective of the child because he is the only connection she has left of Francis since Mary left. I think Catherine sometimes wishes she could have a redo of raising her children. We all know how horrible Leeza turned out. Then again, contraception may have been better for that particular case. Sorry, I really don't like Leeza.
The grand opening of Stefan's Escorts, Inc.: "The royal way to solving a problem"
Once again, Catherine's motherly nature showed itself when Narcisse hinted Charles needed a little bit of action. Quite honestly, the kid needs a decent psychologist and some xanax, but we're a few centuries too early for that. So, Narcisse trying to be helpful delivered a wonderful young noble girl with the instructions of "if it pleases the King, don't stop." That walk down the passageway was probably one of Narcisse's most awkwardest encounters. Plus, let's not forget the blast from the past that was Diane de Poitiers. Narcisse is lucky Catherine didn't hear him say that.
Lastly, a Scottish flirtation starring a queen and a spy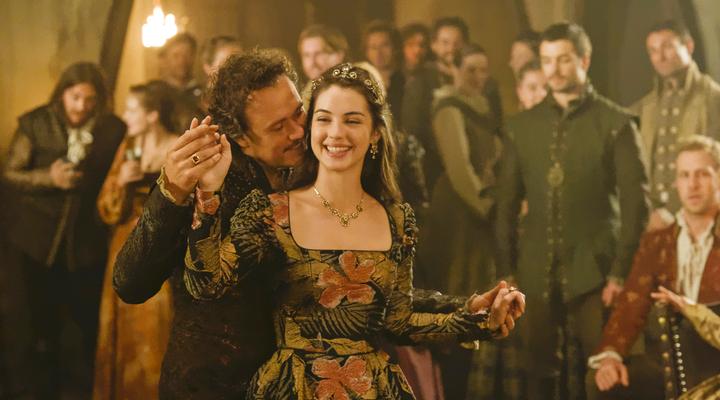 Guys, how cute was Gideon? He loves Mary and he saw this insanely beautiful and heartwarming future of the two of them overlooking the water in a castle in England. If only life were so simple. Gideon's idea of a date night was definitely one for the books. I'm sure Reign's Leaps of Faith was deliberately aired after Valentine's Day to help all the Reign fans' significant others avoid competing with very unrealistic expectations. Everything was perfect except for their situation. Mary is not only in charge of protecting herself, but her people. James was right when he wanted everyone to know Mary's true intentions beyond loving Gideon. Sadly, Gideon went home bride-less. P.s. The dance was pure and romantic and Lord Darnley is not blind.
Reign is really stepping up its game and I am so sad this is their final season. Whatever shall we do, guys? Side note: Follow me on Twitter, @SuryaCherian, and stay tuned for my predictions post for 'Playing with Fire'!
Reign airs Fridays at 9/8c on The CW.
(image: Ben Mark Holzberg | CW)