Ok, ya'll. It's almost time to check back in with our favorite teen delinquents and their 'rents as they try to save the world. Again. So when last we left our peeps, Clarke had just defeated Alie in the City of Light (with some help from our girl, Lexa). The grip of the chip faded on everyone but that didn't end the drama. While in the City of Light, Clarke got the skinny on the latest trouble brewing on the ground.
After years and years of neglect, the Earth's nuclear power plants are in meltdown mode, meaning everyone is in danger. So what does that mean for Clarke and crew? Well, instead of keeping her people safe, we think that Clarke will be taking the lives of everyone into account when she makes her next set of leadership decisions. With her crew reunited, we hope to see Clarke in a better place. We can't say the same for Octavia, but girlfriend has some issues to work through. Here are our 4 hopes for a sure to be EPIC season 4.
#1 Let Clarke grieve and find some peace
Clarke has been through a lot. Actually, so much has happened to our young leader that it's baffling that she can still manage to function at such a high level. The problem is that our girl has never really been able to deal with her pain. After she killed Finn, she didn't really get to chill because she was trying to figure out everything with the Grounders. And after she (and Bellamy) flipped the switch that killed a bunch of folks, she went off the deep end. At that point she was known as Wanheda and rocked some super tragic hair but we never really got to see her deal with her emotions, just avoid them. Then in Season 3, after she watched Lexa die, she didn't get any downtime. Later she got a little closer when she was aided by Lexa in the City of Light but we are pretty sure that only made the loss hurt that much more. We hope that in Season 4 Clarke gets the chance to face her emotions with the same bad-ass confidence she does when faced with a world shattering dilemma.
#2 Octavia to find herself
Life has never been easy for O and Season 3 was particularly rough on her. Not only did she lose her true love, but she also lost the trusting relationship with her bro that got her through her troubled childhood. Octavia's crime was that she was born and she spent most of her life locked away so when her feet first hit Earth, she started her path to self discovery. Along the way, she fell in love with a Grounder and found her place with him and his people. Octavia learned to fight and defend herself against the dangers of the ground. But after the loss of Lincoln, and learning Bellamy's role in Lincoln's death, Octavia snapped. She stuck with her crew until Alie was defeated but not a second longer. She stabbed Pike (Lincoln's killer) and strutted out to an uncertain future. The trailer for Season 4 shows Octavia on a rather dark path but we hope that she will find her way back to her brother and her friends. It may take her all season, but she deserves to feel safe, happy and loved.
https://youtu.be/nWQLfIagnow
#3 Unite the clans
With a total world meltdown looming over them, we hope to see the 12 clans plus Clarke's crew come together. There is so much more at stake now, so fighting over the trivial things that once divided them seems silly and it will have to take a backseat to the global threat that was teased in Season 3. Basically, they need to come together for the sake of humanity or they are all doomed. It will also be a wonderful way to honor the memory of Lexa, who worked to unite the 13 clans before her very untimely death. It may not be as easy as we might hope though. Some clans have already proven that they don't play nice with others. Looking at you Ice Nation!
#4 Bellamy and Clarke on the same side (and maybe more)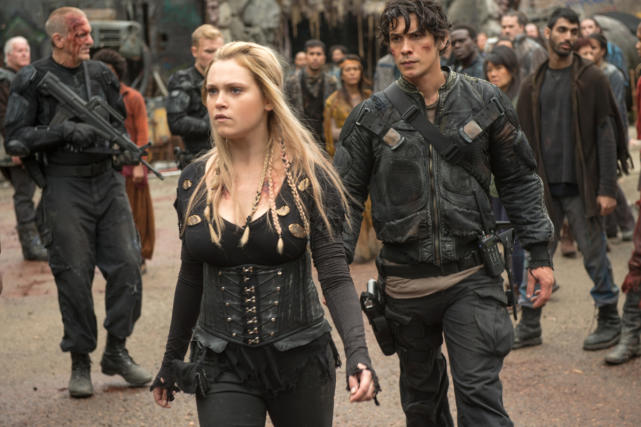 Clarke and Bellamy have a hefty dose of healing to do and shouldn't be jumping into a relationship, but we need to at least keep them on the same side of the fight this season. Bellamy and Clarke were apart for most of Season 3 and that fracture was felt far and wide. The friendship they share provides balance for them both so when they were tasked with the heavy problems, they found a way to deal with it together. In most of Season 3, they didn't have each other to bounce ideas off of but once they started to work together again, things started to fall back into place. In Season 4, we don't want the rift. We want these two fighting side by side to save the world. And hey, if later in the season they want to make out, we'd be cool with that too. The chemistry these two share is off the charts so a romance feels like it's just around the corner (once they both have healed a little). Just keep them together for the love of Jaha.
The 100 Season 4 premieres on the CW on Feb 1st. 
(Image: Photo Credit: The 100/The CW)