Random Sh!t
TV
Remembering the life lessons 'Bones' characters have taught us
Bones Season 12 premieres Tuesday, January 3, 2017 on FOX at 9/8c.
It's officially season 12 premiere day! Bones has made such a lasting impact on this world and we should remember a few of the amazing lessons we've learned before the beginning of the end.
Every single character has brought something special to the table and to the viewers' lives. Here's the best advice Bones characters have given us over the past 11 seasons.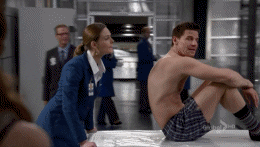 Seeley Booth: FBI agent and father extraordinaire
Booth taught us the importance of loyalty and family. He taught us that family doesn't end with blood relations, but includes those closest to us. Booth believes in his gut and goes against bureaucracy to ensure his people are safe and murders are solved. He believes in the good in this world even though he deals with the evil everyday. Lastly, Booth has taught us to include our own originality in everything. Even if that means wearing wacky socks and a cocky belt.
Dr. Temperane Brennan: forensic anthropologist and grade-A novelist
Dr. Brennan constantly advocates for women. She helps break the damsel-in-distress stereotype with her quick reflexes and dangerous defensive skills. Brennan's showed us how people can change for the better. In the beginning of the series, she was very closed off and lonely. We all saw how hard Brennan worked to open herself up and let people in. Her struggles were rewarded as she now has a beautiful family. She did not change who she fundamentally was, but understood the importance of bonds and relationships. Brennan finally understood that sometimes irrational behavior (like love) exists and transcends science.
Dr. Jack Hodgins: scientist, inventor, self-proclaimed 'King of the Lab'
Hodgins taught us that money isn't everything. He grew up with billions and when he lost it all, he didn't freak out. He reminded us all that true wealth lies in the things money can't buy: family and friends. Hodgins also teaches us how incredibly important it is to love your job. There is no one happier than Bug Boy digging through piles of trash. He shows us that curiosity isn't just for children.
Angela Montenegro: artist, tech genius, Brennan's best friend
The Jeffersonian's resident artist and "computer nerd" is beautiful inside and out. Angela fuses her artistic mind with her work to build incredible machines like the Angelatron. Her fire and spirit take a toll with the work they do, but her desire to help people supercedes her desire to leave. The most important thing Angela teaches us is to never give up on your dream. She has continued to paint and even delved into photography. She's a big believer in balancing work and play. In a world full of workaholics, we all need to be reminded of Angela's mindset.
Dr. Camille Saroyan: acted in a vampire movie once and the HBIC
Dr. Saroyan reminds us that sometimes you have to be the "bad guy" to protect your friends. Her reinforcements of protocol and the rules have ensured the survival of the team and the Jeffersonian. She's the perfect female boss. She's strong, fierce, and intelligent. She also has a killer closet. Cam doesn't let working with dead bodies bring down her incredible style. She also showed us the joys of taking on extra responsibility by adopting her ex's child. Anyone can see just how much she loves Michelle.
Dr. Lance Sweets: psychologist, piano player, 'Lime in the Coconut' fan
My heart. Sweets was one of the smartest and youngest psychologists at the FBI. He taught us to ask questions and push, push, push. He went out of his comfort zone to talk to Booth and Bones. He even shouted at them to get together and they most definitely needed that to be where they are now. He liked the weirdest intern, Daisy, but I think it was because he learned from Booth. Lo and behold, Daisy ended up being the perfect mother for his child. Sweets was observant and was always there for his friends. Not many people would allow their friends to constantly barge into their office only to listen to half their advice.
Agent James Aubrey: understands science, probably hungry, owns a poncho
Aubrey is his own quirky person. He is unapologetically himself and is destined for greatness. He dreams big and works hard. He, like Booth, tells it like it is and is not fazed by money or fame. He's also a foodie and the fact that people joke around about it, hasn't stopped him one bit. Aubrey goes the extra mile to be prepared in life and that's the best life lesson anyone could give. He read Sweets thoughts on Booth and knew to look out for gambling red flags. He looks out for his friends and everyone around him. He was worried about Ms. Warren's past, but learned to take a chance as people do, in fact, grow and change. They're an adorable couple and I hope one day he joins Congress.
Caroline Julian: legal can of whoop a$$ and certified Bones lynchpin
Can I just start with how amazing this photo is? Everyone knows Caroline shipped Booth and Brennan since basically day one, though, she was skeptical. She is the undercover glue that holds everyone together, the "lynchpin". Caroline is the legally savvy broad who shows us you can work your way around loopholes to get the bad guys. She is open with criticism, yet funny in their delivery. Caroline teaches us that teamwork is the foundation of society and that we should never get rid of a good thing.
Dr. Zack Addy: special snowflake and person to avoid in dark alleyways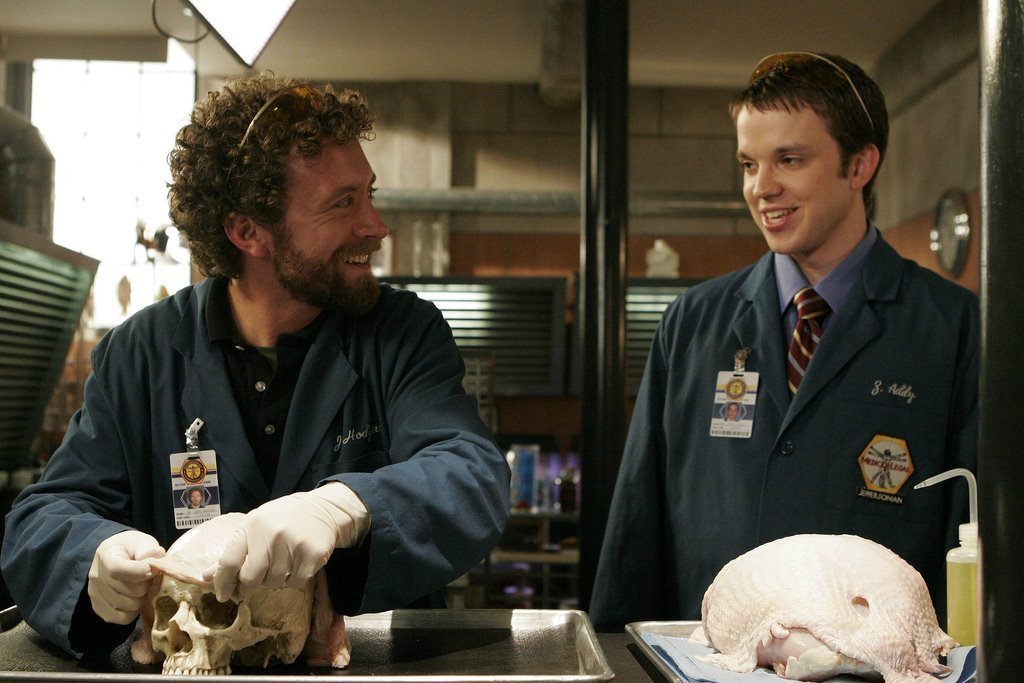 Zack had one of the more tragic storylines. However, it did teach us one thing: love supercedes rationality. Zack's competition with Hodgins over being "King of the Lab" and his thoughts on male bonding with Booth were key moments of early Bones history. The most important thing he did was sacrifice his own safety for Hodgins. Sometimes, we forget that every single human being is important because they make a difference in someone else's life. As Zack rationalized murder, many are unfazed by how truly horrible genocide and war are. We should always stop and think about how our actions will affect others.
Dr. Arastoo Vazriri: multi-lingual political exile who's banging the boss
Arastoo teaches us the importance of staying true to one's culture. Arastoo showed the real fear of many when it comes to being honest about themselves. He literally faked an accent so no one would question his religious adherence. I may not be Muslim, but as a Catholic, I've felt weird explaining why I go to church on Sundays or confession to people who aren't religious. The important thing is that Arastoo did not stop loving his culture, he just tweaked it. I can't imagine what it's like to be a Muslim in a post 9/11 America, but Arastoo's character reminds society that the majority of people of all religions are good.
Daisy Wick: hyper, possibly high on life, mother of one
Daisy definitely frustrated a lot of us. She was stubborn and attention seeking, but in the end you can't deny her intellect or abilities. Daisy grew very quickly in front of us. We saw her fall in love with her Lancelot, lose him, and have his child. She was quirky as can be, but loyal and caring. The biggest life lesson she taught us was to roll with the punches. She lost the love of her life, but she kept working and is singlehandedly raising a child. Daisy seemed very fragile, but now she's one of the strongest characters on Bones.
Wendell Bray: scientist, mechanic, antique clock breaker
Okay, Wendell also had a tragic storyline and I mean after 11 seasons, a bunch of characters are going to be put through the ringer. Anyways, Wendell came from a small town and worked his way into Brennan's lab. He taught us to never forget where we come from. Wendell always cared about the townspeople that worked together to help him reach his dream internship. I think that's why Booth is so close to Wendell. They both understand responsibility, people, and the joys of what truly matter (this includes hockey.)
Dr. Clark Edison: anthropologist, secretive, lived at the Jeffersonian
Clark is so rigid, yet his sexual prowess is well known. Not, of course, because he gets around, but because it somehow pops us. An example is the case concerning his expedition. He had to tell the team he was sleeping with someone which made him a murder suspect. Clark had a tough time in school and he found solace in magic. He found a way to channel his intellect into something that was exciting for even the mentally average. He's capable and doesn't let Brennan's criticism knock him down. Clark reminds us that confidence is key.
Finn Abernathy: nicknamed Opie and likes hot sauce
Finn is the best example of "don't judge a book by its cover" there ever was. When he first started on Bones, a lot of us were probaby raising our brows. He had his country voice and ways, but that didn't stop him from showing us just how smart he really is. Finn's life lesson was to never underestimate people. They'll definitely surprise you.
Colin Fisher: former squint, current science tutor, used to paint his nails black
Fisher was all about death and despair. It's Fisher's progression from gothic intern to suave tutor that was shocking. Fisher teaches us that we can have an appreciation for death without being consumed by it. He seemed very depressed when he worked at the Jeffersonian, but now Fisher's more relaxed and happy. It could also be all of the "nubile women" and traveling.
Dr. Oliver Wells: kind of looks like Hodgins and probably gets slapped often
Oliver got hit with a case of erectile dysfunction and it was the funniest thing. The life lesson here was that even the most airheaded people deal with awkward health issues and that's okay. Oliver was extremely cranky that episode and, thanks to Betty White, had an adventure in the woods with Hodgins. Erectile dysfunction isn't unheard of and people shouldn't be embarrassed by it. Seek help and you'll find a way to fix the issue.
Vincent Nigel-Murray: English, fidgety, knows a lot
Vincent Nigel-Murray, other than having an incredible name, was all about facts. He shows us that reading and learning facts can be fun and useful. For Vincent, facts helped him think. A lot of people deal with anxiety and/or have issues focusing. Mr. Nigel-Murray teaches us that you can still succeed and do great things, just find a way to ground yourself. Even if that means being a walking information tank.
Dr. Rodolfo Fuentes: Cuban and the embodiment of suavemente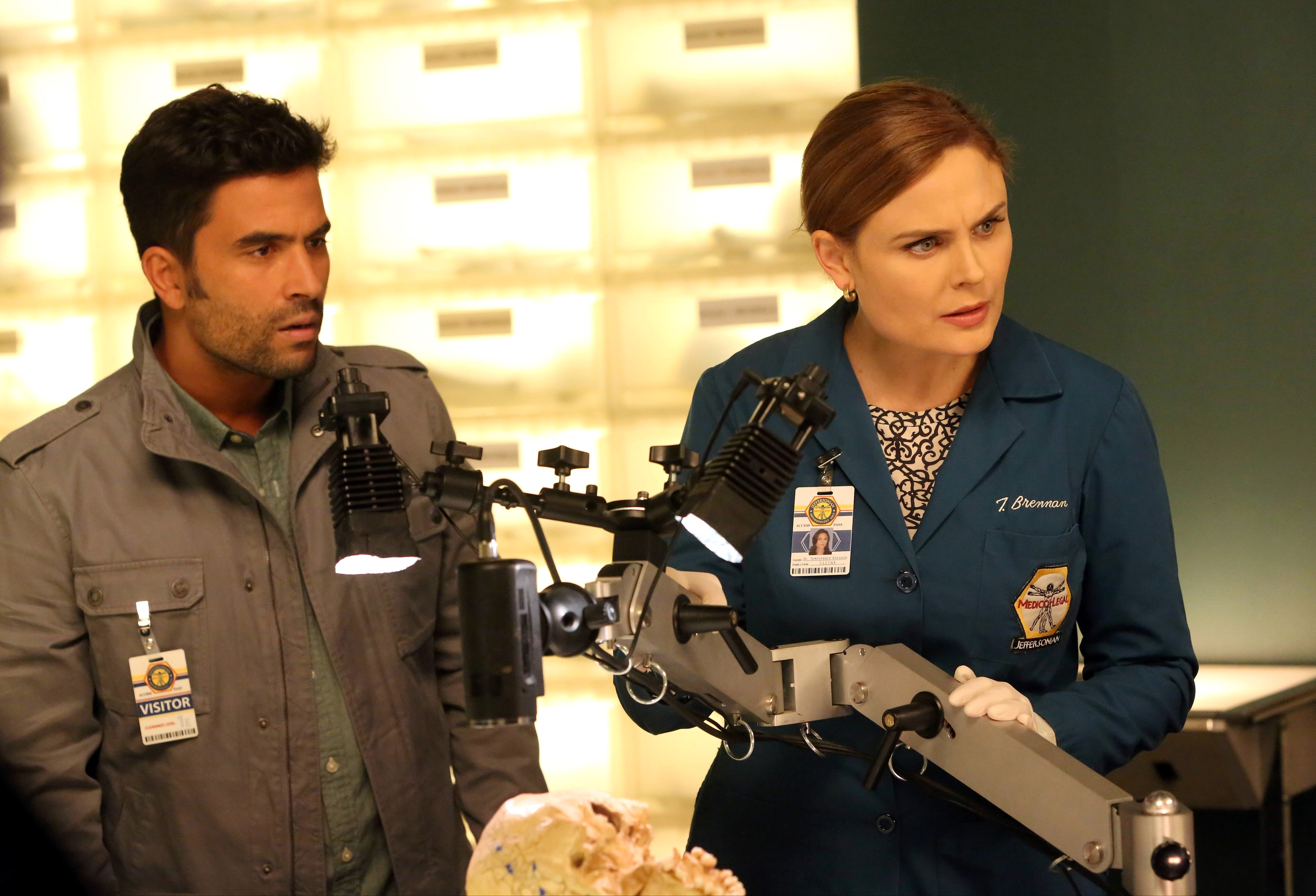 Rodolfo came from a tough background and although charming, never forget the suffering he had seen. Charity work is important. We have all been greatly blessed in this life and the things we take for granted are things others pray for. Rodolfo tried to help those in need by sending supplies. He put his job on the line, but it was for the greater good. Brennan appreciated that and helped out. Rodolfo's actions are a reminder to think of the world outside of our personal bubbles. A small act on our part can make a huge difference in someone else's.
Jessica Warren: member of Greenpeace and not opposed to drugs
Caroline was very fishy of Ms. Warren when she realized Aubrey might have the hots for her. I think it was cute that Caroline was protective of him and I think Aubrey (and the audience) needed to know more of Jessica's past. Jessica's life lesson to all of us is that people can have the most differing histories and still come together and click. She changed Brennan's mind of co-op living and showed that education truly has no bounds.
Dr. Gordon Wyatt: literally the coolest person on the planet
I can honestly say that Gordon Gordon has left an impact on my life. I, and I wonder if this goes for many in society, have so many dreams and aspirations. How do you choose to do just one thing for the rest of your life? The greatest life lesson Dr. Wyatt gave Bones lovers is that age is only a number. He's achieved all of his dreams and is happier for it. He was a rockstar turned psychologist turned renowned chef. People are ever changing and so might our career choices. We don't need to be tied down unless we truly enjoy what we're doing. In which case, you're not tied down, you're living.
I can't wait to watch the first episode of Bones season 12 tonight! I'm going to try my best to live tweet with everyone, so make sure you follow me on Twitter, @SuryaCherian! Also, feel free to tweet me your thoughts or comment below!
Bones season 12 premieres Tuesday, January 3, 2017 on FOX at 9/8c.
(image: Bones | Facebook)