The Vampire Diaries is sadly coming to an end soon, but before it does, there are a few characters I'd like to see return. From Elena Gilbert waking up from her slumber, to Bonnie's Grams making a comeback, there are many faces that should grace our screens again before the show comes to its end. This would give the chance to tie up loose ends in certain storylines and will also appease fans wants needs .
Let's take a look at 8 characters that should return to TVD in season 8:
(FYI, these characters are in no particular order. 'Cause, let's be honest, we'd want them all back in a heartbeat if we could.)
#1 Elena Gilbert
Miss Gilbert must wake up from her slumber and be reunited with all her loved ones. I'm talking about a Delena reunion, a "goodbye" scene between her and Bonnie (if nothing can be done to save the both of them), and more! It wouldn't be right if the show ended and we didn't get to see Elena one last time.
#2 Katherine Pierce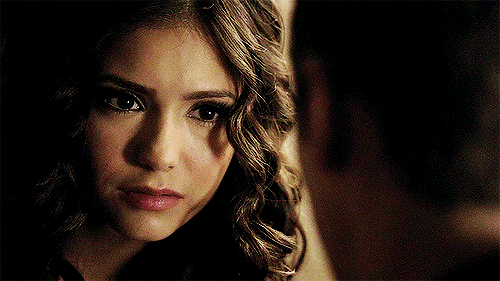 Katherine Pierce (or should I say, Katherine Fierce), is one hell of a character who MUST make a comeback on the show. She is feisty, arrogant, and downright bad, but she brought so much to the show, so it would be sad not to see her again. I'm still convinced she must be sitting in hell, waiting patiently for the Salvatore bros to join her.
#3 Kai Parker
Kai Parker is as mean as the baddies have gotten on TVD. Mr. Parker gave no sh*ts about anyone and did not care who got hurt in the process, as long as he got what he wanted. The worst thing about Kai was that he showed no emotion, no remorse, or guilt, for anything bad he did – which is why he tops as one of the best villains of the show. (Check out the top TVD villains post here!)
#4 Jeremy Gilbert
Wouldn't it be amazing if we got Elena back on the show, and then Jeremy turned up too? Hell yeah to a Gilbert sibling reunion, right? Not only does he need to return for Elena's sake, but also Bonnie's too. Let's not forget about the time those two were once love birds. So, if Bon-Bon wasn't to survive Kai's curse, then Jer has to be there to say bye to his once lover. Despite me absolutely loving Bonnie and Enzo right now, I did love Bon-Bon and Jer's relationship a lot, so I'd love for this to happen.
#5 Klaus Mikaelson
Klaus Mikaelson needs to make an epic comeback to the good old town of Mystic Falls! When the Originals were present on TVD, it was one of the best seasons ever (3 is my personal favourite season), so to see Klaus and the rest of his siblings return to the show would definitely be amazing. Obvi, a very important reason for Klaus to return would be for Caroline. With Cami sadly passing away, Klaus is at a very vulnerable state so he may need support and love from someone he cares deeply for – aka, Caroline! I'm crossing my fingers for a Klaroline reunion!
#6 Grams
Yes, Grams is dead, but we all know there are loopholes and things around seeing dead characters again. For our fav witch Bonnie, I think it would be a good send-off for her if we saw her reuniting with her Grams. If Bonnie has to die, then I'd like to see Grams welcome her and take her to the place where they now go (since there is no 'Other Side', I have no idea where they will go once they die – unless you have done bad then you'll go to Cade's Hell). Basically, I'd just want to know Bonnie would be going to a place where she is loved and will have her Grams with her. I'm already sobbing at the thought of such a scene.
#7 Jenna Sommers
Jenna Sommers is insanely missed. I loved her presence on the show, and I loved her relationship with Alaric – I think if I have to choose who I liked him best with, it would be Jenna. Anyways, with whatever may happen with Elena, in case something bad happened, it would be good to see Aunt Jenna again. Also, I'm all down for an Alaric and Jenna reunion. Can someone bring her back to life, please?
#8 Lexi Branson
How awesome is Lexi? Wouldn't it be amazing to see her back on TVD? Lexi was Stefan's one true BFF, and quite frankly, I think she is exactly who he needs right now. Maybe she will be the one to bring his humanity back after his year helping with Cade. Not only do I need Lexi and Stefan scenes, but I'd also like to see her banter with Damon again.
Who would you like to see return to The Vampire Diaries in season 8? Share all your thoughts, feelings, and predictions in the comment section below. And don't forget to give us a tweet at @Pure_Fandom and @OhMyZinaa. Make sure to keep up-to-date with all TVD news and posts here!
Love always,
Zina
The Vampire Diaries returns Friday, Jan. 13 at 8/7c on The CW.
(Image credit: The CW)