Season 6 is fast approaching, so we thought we would take a look back at some of our favorite characters to see just how far they have come since Season 1 of Teen Wolf. We are starting with our girl, Lydia Martin.
Season 1
In Season 1, Lydia was the most popular girl in school and dating the star of the lacrosse team. She wasn't friends with Scott or Stiles but quickly bonded with Allison over fashion. She wasn't always the nicest girl back then (remember when she made out with Scott?!), but after a traumatic run-in with the Alpha, she was forever changed. In Season 1, she played dumb and pretended to be bad a bowling for Jackson's benefit, but we all know that Lydia is a genius and tends to be the best at everything.
Season 2
Lydia is missing from the hospital after the Alpha's attack, but she doesn't turn into a werewolf — she becomes quite the mystery. When the Kanima goes on a killing spree, Derek thinks it's Lydia and they plan to kill her. This is when Lydia really starts to bond with Scott and Stiles as they work to unravel the mystery of the Kanima murders. Lydia doesn't know about her powers yet, but she starts to see Peter (the Alpha) in her dreams and is eventually controlled by him. Lydia is the key to saving Jackson and we really see her start to find her true self in this season.
Season 3
This is when Lydia realizes that she is for sure "something." She starts to find bodies and seems to be drawn to death, but she can't explain why until she is nearly killed by Jennifer. She's a Banshee! One of the best Lydia moments is when she tells her mother that she isn't going to cover up the strangulation mark on her neck (from Jennifer) because she survived and she doesn't need to hide that. You go girl. This is the season when her friendship with Stiles really kicks up. She is even his anchor when Stiles, Allison, and Scott are briefly killed in an effort to locate their parents. She also starts to use her screams more and becomes instrumental in saving Stiles from the Nogitsune.
Season 4
The Banshee mythology really takes center stage in this season. Lydia's smarts and her abilities let her take the lead on the dead pool investigation. She also meets another Banshee and is able to figure out what she has to do with the dead pool. Lydia learns all about her family's Banshee history at her lake house and becomes consumed by the voices she can hear there.  She becomes a little frightened by her powers and learns that Grandmother was sent away to Eichen House when her powers got out of control.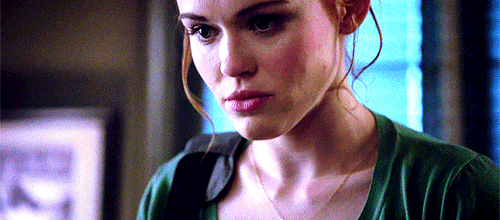 Season 5
This season opens with Lydia in Eichen House, and she spends way too much time there. Her mother sent her there, but instead of helping her, Eichen House tests her powers… and not in a good way. It felt like she was out for the count, but Lydia was busted out and seemed to be back to her old self, despite the hole in her head. She got right back to it and helped her pack with that little Beast problem. Lydia ended the season a strong, confident Banshee with a pack that always has her back.
Season 6 hopes?
We think that Lydia is going to do the saving in Season 6. Season 5 saw her at her most helpless, but we think that season 6 is going to be her year! Also, #Stydia totally NEEDS to happen this year, right? So yeah, that too.
Want more Teen Wolf goodness in your life? Head to our Teen Wolf Lair for lists all about Stiles, news on the show, and spinoff show ideas!
Teen Wolf returns Nov. 15 on MTV  
(Image: www.pinterest.com)