This post contains spoilers from The Walking Dead season 7 premiere episode, "The Day Will Come When You Won't Be." 
Abraham Ford (Michael Cudlitz) was one unique guy. Our red-headed Dolphin Smooth may not have always been front and center on the show, but he stole every scene he was in. He was fantastic comedic relief and a guy the group could always count on to get sh*t done. Sadly, in the season 7 premiere, he was one of two fan-favorite's who got brutally Lucille'd. The best way we know how to say goodbye is to relive some of our favorite Abraham Ford quotes from over the years.
He had some classic catchphrases we couldn't help but use in our own lives.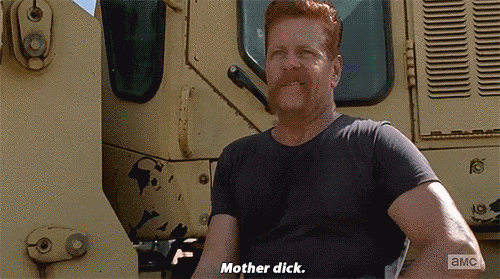 He always gave credit where credit was due.
His metaphors were always so profound.
Life lessons, y'all!
When there were still things that shocked him…
Abraham was always quite the romantic.
And very poetic.
He just had a way with words.
Always with the nuts…
Even up until his last breath.
We'll miss you, Abraham! Here's to hoping you're up there having Spaghetti Tuesdays with all of the characters we've lost since season 1. #NutsOut
For Walking Dead news, recaps, theories, Daryl appreciation posts and more, head to our Dead Zone.
The Walking Dead airs Sundays on AMC at 9/8c.
(Featured image via AMC)