Every character on Teen Wolf holds a special place in our hearts, but Stiles is … special? We don't even know how to explain it, but he's a one-of-a-kind character that we'd root for no matter what (and riot in the streets for if he died). It is, in part, because Dylan O'Brien has so flawlessly brought this character to life. Also, Jeff Davis has done a brilliant job at making the audience fall in love with him from the very beginning. Before the show's final season begins (still trying to cope with that news by the way), let's take a look back at some of Stiles best moments from seasons 1 through 5.
His speech to Scott in "Motel California" when he tells him he's his brother while trying to save his life.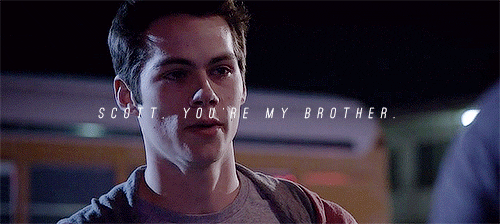 Bruised and battered, Stiles and his dad hugging in season 2, "Master Plan," is still one of our favorite moments from the show ever.
Ugh! And when he calls Mama McCall "mom" in the hospital …
Oh, what's that you hear? That's just the sound of our hearts shattering and falling on our laminate wood flooring.
Pretty much every single scene involving Void Stiles, but the first time Scott sees him as the Nogitsune (and gets stabbed) is so intense.
Oh, and when he pukes up the Nogitsune bandages. *shivers*
And we can't leave out Stiles and Scott hugging it out before Stiles' scan at the hospital in 3B.
Sterek takes a dip! Stiles keeping Derek afloat in the pool is downright hilarious.
Stiles opening up to Ms. Morrell and fiddling with his lacrosse stick just breaks our hearts.
Let's talk romance. We'll never get over Lydia kissing Stiles when he's having a panic attack.
In fact, Lydia and Stiles finally getting together romantically is on our season 6 wish list.
But equally amazing was Stiles and Malia hooking up for the first time on that highly unsanitary couch.
And on a happy note, how about when he shows up at Lydia's door grinning with the biggest present ever?
For more news, photos, recaps, and GIFs of Dylan O'Brien, head over to our Teen Wolf lair.
Teen Wolf returns to MTV on Nov. 15th  
(Featured Image via MTV)