After it's release last month, everyone has been dying for Netflix to finally spill the beans on Stranger Things. Season one was an overnight success and fans were immediately teased with rumors of its renewal. The waiting game went a little like this: come on Netflix, we all know you and season two have a 'THING'!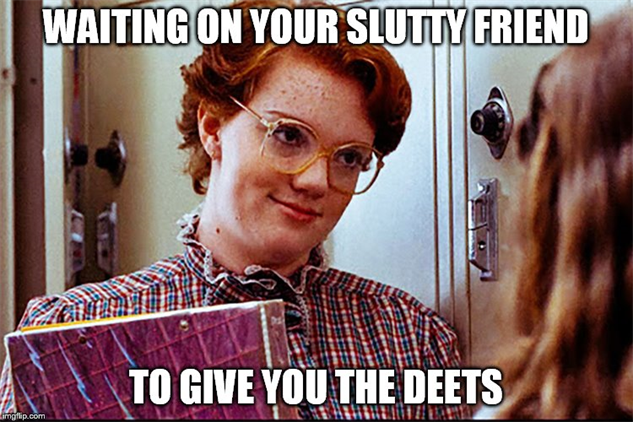 I think we all knew, even before it did, that Netflix kinda fancied Stranger Things.
So, if you haven't already heard, Stranger Things has been officially renewed for a second season! Check out the announcement trailer here.
And, in light of this exciting news, we thought we'd propose some ideas. We've already discussed our theories plot-wise, so this time we've imagined the second season a jammin' soundtrack!
The Official Stranger Things Season One Soundtrack
This phenomenal show has been an excellent vessel for 80's nostalgia. Season 1 paraded a brilliant selection of old records through its eight episodes, grabbing many viewers' attention. So much so, the official Netflix Spotify account actually made a Stranger Things season one playlist, available below:
It's excellent.
Our Fan-Made Stranger Things
Season Two

Soundtrack

Given this, I then handed myself the grueling task of having an incredibly fun, day-long, 80's jam session! Below is the Stranger Things season two playlist I compiled. There's going to be nine episodes in season two, so I've picked nine songs that I think could drive the story. Season two will be set in 1984, so I kept all the songs within the 1980-1984 range.
'I Come from a Land Down Under' – Carl Wave

This is my personal favorite. I laughed when I immediately thought of the 'Upside Down' whilst listening to this. This one would appear comically, according to my wild imagination. Perhaps, it could be used when a character returns from the 'Upside Down', or when a new character appears from that realm. I actually envision a revealing scene involving Chief Hopper to this song – I believe he has more experience with the 'Upside Down' than he has, so far, let on.

'Dancing In the Dark' – Bruce Springsteen

I can see a light-hearted scene between Eleven and Mike here. Eleven really doesn't seem to have had much of a childhood and I'd say Mike's hand-me-down experiences return a bit of humanity to her. I find, Mike and Eleven's scenes are like watching a child trying to remind an adult how to have fun. Mike brings out the silly side in an otherwise mature and alert Eleven. They are generally dancing in the dark, having the sweetest scenes amidst the drama. Plus, they bring that classic young love element to the show, which I think can be felt in this song.

'A Friend I Call Desire' – Ultravox

I'd reserve for the tension that will, ultimately, grow between Nancy and Jonathan. This song is more eerie than romantic, which I think is perfect for them. I'd say their relationship is more circumstantial than natural – given the high school food-chain, they just wouldn't have happened without some Supernatural intervention. Their relationship will probably be a little toxic, being from two different life-styles, but that's what will give it strength and make it exciting.

'The Killing Moon' – Echo & the Bunnymen

Nancy and Steve's relationship dissolved before my eyes when I heard this. Steve is clearly in love with Nancy, despite that distasteful 'slut-shaming' escapade and his generally poor romantic choices. However, it's clear that the sweetness they exhibited at the end of season 1 will not last long. And, like this song I think the break-up will be sad and Steve will feel it the most.

'Sweet Dreams (Are Made of This)' – Eurythmics

I can see Eleven returning to this creepy Eurythmics hit. Generally, I find this to be a very fitting anthem for her – gentle and innocent yet deeply tainted by life. This song talks a lot about dreams whilst sounding very aware of the harshness of reality and the corruption of people. It's a mix of distrust and hopeful idealism, stirred by a strong backbone. This contradictory concoction is Eleven, to me.

'Shout' – Tears for Fears

Tears for Fears are a favorite 80's band of mine. I actually found that most of their ethereal music goes well with the Stranger Things branding, but 'Shout' in particular struck me. In my mind, I saw Eleven experiencing the 'Upside Down' in one of her bath incubations, and just her whole time at Hawkin's Laboratory in general. I can see her taking revenge on her captors when I listen to this, and it wouldn't surprise me if she had the Demogorgon on a leash, now an ally, doing her bidding.

'Straight to Hell' – The Clash

I wasn't entirely sure what to do with this song, but I was certain it could fit in somewhere. We already know Jonathan loves The Clash and that he introduced Will to them just before his disappearance. Remember how we had that theory that Will, still harboring weird alien slugs from the Upside Down, might become a monster himself? Well, I thought that if we do witness his transition, this song would be fitting for that. I think he might become something similar to the Demogorgon or develop abilities like Eleven. Either way, I think the softness of his character will harden and he will become angsty. And, what's more angsty than The Clash?

'Loving The Alien' – David Bowie

Had to get a bit of Bowie in there, of course. Not only is the title perfect as I think aliens are involved in this show's backstory, but the melody sounds a little unsure of itself, which I think I would be if I came across a Demogorgon or Eleven for that matter. Images of Eleven and the Demogorgon (both of whom I don't think are gone, only more deeply interwoven) coming to terms with one another were running in my head. Or, maybe even the boys coming, cautiously, into close proximity of a tamer version of the monster.

'Dragon Attack' – Queen

Now, I don't know about you, but I don't think Dr. Brenner is dead; his death scene was far too ambiguous. I think he's going to walk straight through those Hawkin's Laboratory doors again in season two. The title 'Dragon Attack' made me think of the boys playing Dungeons and Dragons and, in my mind, Brenner became the true Demogorgon of the story. It's a very smug song and I can see both Brenner and the boys convinced they're going to be the victor. I imagine the boys rallying together again and getting back into the action, but I do think something new in season two will come into the mix, a curve ball, and that's where I imagine this record scratching to a halt for both parties.
This was all just a bit of fun and again I let my imagination run a bit wild. I expect this is what Duffer Brother's wanted their audience to do, though. You don't write a mere eight-episode-long season, keep it totally engaging, yet leave a bunch of unanswered questions, and not expect your enthralled audience to speculate and theorize until their next dose. You just don't. So, I happily admit that I've fallen right into their trap.
What about you guys? What 80's songs do you want to hear in season two of Stranger Things? Did you like our playlist? Are there any songs you'd omit or have you come up with your own ways to implement them? Let us know in the comments below? We're unbelievably stoked for this upcoming season here at Purefandom, so be sure to check in with us for all the latest updates and fun discussions.
Stranger Things, season two will air on Netflix in 2017.
Image Source: www.toonzone.net