(Image: geekdad.com)
[Spoilers possible, but nothing too plot heavy]
If you are not currently watching this gem of a show on the CW because you think it's just another zombie show, you are soooo wrong. iZombie is based on a comic book and has so many layers. Check out these reasons you should be watching!
1. The main character is a zombie and her name is Olivia Moore. A zombie named Liv Moore!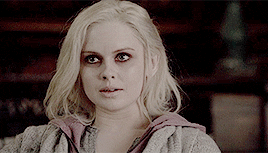 2. Ravi. He is the nerdy, hunky heart of the show.
Swoon!
3. Fresh to death!
When Liv eats a brain, she takes on the characteristics of that person. That means a fresh take on her character every week and it keeps Ravi on his toes!
4. The fact that Peyton will never give up on Liv.
This scene WILL rip your heart out.
5. Seriously, BFFs 4Life (and death)
6. It's super witty! (It's from the creator of Veronica Mars!)
Love!
7. There is a seedy underground zombie world.
So many shady folks.
8. Ravi and Major's bromance to end all bromances.
They are seriously the best. Like a new Joey and Chandler but with zombies.
9. Oh, and Major. His character is great.
Holy cow. His season 2 arc is incredible.
 10. Liv's optimism.
Even though her "life" has been completely changed by ya know, becoming a zombie, she has hope.
11. The tension between Blaine and Liv.
It's not (at all) love but it's not quite hate but its there …
12. This.
13. It's sort of a cop show.
Liv works with Clive, a detective, to solve murders. She can do this because she gets visions from the brain of the murder victim she eats but Clive just thinks she is psychic. It sounds complex but it totally works.
14. Fierce female lead
Liv is amazing.
We totally agree zombie dude. We totally agree.
Go check it out! Trust me.
You can watch season 1 of iZombie on Netflix and Season 3 will be on CW in 2017.