(Image: www.youtube.com)
Spanning a decade, Supernatural has had an amazing run and some super notable guest appearances. Some were so long ago, we hardly remember! Most of these are people who are known for other major roles so it's easy to forget that they once kicked it with the Winchesters.  Here are 9 peeps that you may have forgotten were once on Supernatural!
Katie Cassidy (Ruby #1)
The demon Ruby had quite a run on Supernatural. The bulk of her story was seen with Jared's wife Genevieve playing the role, but the original Ruby was the super feisty, Katie Cassidy. Ruby gifted the Winchesters with the demon killing knife, which really changed the game. These days, Katie is best known as the bad-ass Black Canary in the Arrow universe.
Amber Benson (Lenore)
We know her as our favorite witch, Tara Maclay from Buffy the Vampire Slayer but on Supernatural, she was a vampire. Lenore showed up a couple times as an Edward Cullen – style vamp who was living on animal blood and just wanted to be left alone. She was a gray area in the monster world that really made the boys stop and think about their no questions asked methods. These days Amber is slaying the literary world with her latest fantasy series, Echo Park Coven.
Julie Benz (Layla Roarke)
In the Season 1 episode, "Faith", Dean is in dire need of a miracle after his heart starts to fail. He connects with another miracle – seeker named Layla. In typical Dean fashion, he is smitten and struggles to help her while fighting the Reaper and the con artists controlling it. You know Julie as the wicked and tragic Darla from Buffy the Vampire Slayer and Angel. She was also a regular on Dexter. Now you can find her on Hawaii Five-O, as Inspector Abby Dunn.
Amy Acker (Andrea Barr)
In Season 1 Episode 3, "Dead in the Water", Amy gave Dean a hard time but the two ended up sharing a smooch after Dean saved her son. Now, Amy kicks ass on Person of Interest but she used to melt our hearts as Fred on Angel. (Aww, remember Fred?)
Jeffrey Dean Morgan (John Winchester)
He wasn't a great father, but he did his best to raise his boys. Thankfully, they had Bobby (and each other) to fill in the giant holes that John left. He was determined to find the yellow – eyed demon that killed his wife and spent his entire life immersed in the hunt. Like most of the Supernatural characters, John is long gone but you can find him in The Good Wife and most recently, The Walking Dead as the super creepy and awesome Negan.
Sarah Shahi (The Woman in White)
Way back in the pilot, Sarah played the haunting Woman in White, a ghost too scared to go back to her home and face the ghosts of her murdered children. Now, you can catch her on Person of Interest as Sameen Shaw.
Annie Wersching (Susan Thompson)
You know her as the world's worst mother and den mom to the pack of crazy heretics over on The Vampire Diaries, but in Season 2 of Supernatural she was Susan, the inn keeper. SPN lovers will recall this as the creepy doll episode. (shudders)
Adrianne Palicki (Jessica Moore)
She played Sam's college girlfriend who's death spurred Sam's dive back into hunting. She popped back up a few times in different dreams and flashes of what life could have been for Sam. She has since joined the Marvel folks on Agents of S.H.I.E.L.D. as the amazing Bobbi Morse. She may even get her own spin-off!
Linda Blair (Detective Diana Ballard)
Linda, best known for her role in The Exorcist, played a stern cop on Supernatural. She wasn't a fan of the boys at first, but when she was next on the ghost's hit list, she became a believer. She helped the boys out of the jam and Dean was left craving split-pea soup.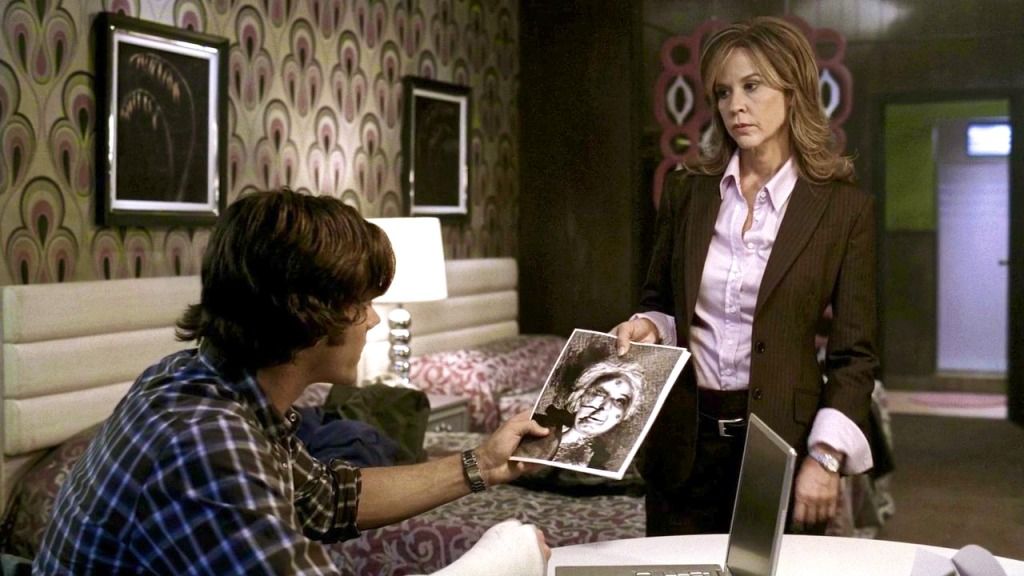 With it's wonderfully long run and no signs of slowing, we are sure to see even more faces pop up on Supernatural in the future!
Need more Supernatural in your life?
Hit up the Supernatural Fandom Page on Purefandom.com and be sure to stick with us for all of your Winchesterly wants and desires. 
Supernatural airs Wednesdays at 9/8c on The CW.