'The Walking Dead' recap: Season 6, Episode 14, "Twice As Far", Aired Mar. 20, 2016
It's about to get real up in post-apocalyptic Georgia, y'all. In last week's episode, Carol and Maggie had to fight their way out of captivity, and they did some pretty dastardly things to escape. In "Twice as Far", we see the ramifications of that play out with Carol's storyline. We also get some hilarious Eugene/Abraham action and someone gets an arrow through the eye.
Let's dive in.
This recap is comic book spoiler free. If you're looking for comic details on who might die, Hilltop, Jesus, Negan, and more, head here.
Eugene Levels Up
Eugene and Abraham are on a run together and after some ridiculously funny exchanges between the two, the guys get into an argument. Eugene asks Abraham to let him kill a walker, but when Eugene gets dangerously close to getting bit, Abraham steps in and makes the kill. Pissed, Eugene says he doesn't need him anymore and the two decide it's a super smart idea to go back to Alexandria separately.
Two grown men pouting and wandering alone in walker-infested woods? Only these two jokers.
Side note: We were trying to put out finger on who Eugene reminded us of with his new hair style. At first we thought George Washington, but as some random person on Twitter kindly pointed out, it's definitely Gaston from Beauty and the Beast.
RIP Denise
Denise is pulling a Eugene. She wants to be a badass like everyone else, or at least overcome her fears a little bit. She convinces Daryl and Rosita to let her go on a run with them. After killing a walker to prove to herself that she's capable of doing what it takes to survive, the trio start heading back to Alexandria. They decide walking on railroad tracks in clear view of anyone who might be lurking around is a great idea.
This is the dumbest sh*t ever and we can't believe Daryl allowed this to happen. Hey guys, do you remember how you slaughtered, like, 891 people last week? Yeah, if there are stragglers, they are going to be out for YOUR blood. Why does everyone have their guard down right now?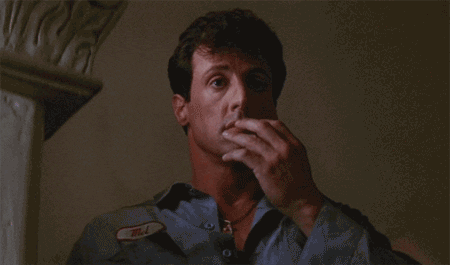 And guess what happens? Denise gets an arrow right through her skull while she's giving a rousing speech about living life. RIP, Doctor Denise Cloyd.
We have to admit that we were worried about Abraham's fate. However, with Denise's death, it's possible that Abraham is now safe. Why? Because in the comics, Abraham is the one who makes a speech before getting shot through the eye with an arrow. Also, this isn't a spoiler, because it already happened, so haters get out of here.
This could all be a ploy to make us think Abraham won't die, but honestly, we have characters we need to be worrying about a lot more.
Dwight's Alive
So, who shot Denise? It's Dwight from "Always Accountable" — the dude who double-crossed Daryl in the woods and stole his crossbow, and of course, he's a Savior. Several of Dwight's men emerge from the woods and surround Daryl and Rosita, holding them at gunpoint. And they have Eugene as a hostage!
Dwight and his men want to be taken to Alexandria so they can have whatever and whoever they want. Yes, they said "whoever". So they want slaves? Wives? More people to play Euchre with? WHAT?
Abraham is lurking in the woods (of course he was following Eugene back). It turns into a shoot-out on the tracks between Team Daryl and Team Dwight. Eugene helps Daryl, Abraham, and Rosita out by biting the sh*t out of Dwight's downstairs mix-up. Looks like Eugene found another set of balls in this episode. He is so freaking proud of himself.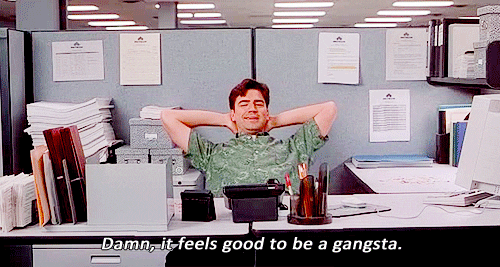 Daryl, Abraham, and Rosita are able to force Dwight and his men to retreat, but not before Eugene is shot. Don't freak out, he's fine. As for Dwight and his men, don't count on them giving up on Alexandria or killing Daryl any time soon. Also, anyone notice Dwight's face? We wonder if that was Negan's punishment for trying to leave the first time.
Dammit, Carol!
Guys, Carol just up and left Alexandria! Who's going to make everyone cookies now? We totally called that something major would happen with Carol in our last Talking TV podcast (possibly even leading to a character's death) because of her newfound distaste for murder.
Carol leaves Tobin a letter, and in it, she says, "I can't love anyone, because I can't kill for anyone. So, I'm going, like I always should have. Don't come after me, please." Yup, this is going to end poorly.
The very end of the episode featured Morgan watching the Alexandrians roll out the guns and prepare for war as Carol's letter-voiceover concludes. Balls, y'all! This is bad. Anyone speculating on the cell Morgan's building? Negan's future home maybe? Let's hope Morgan leaves Alexandria to join Carol and they start an anti-violence apocalypse rehabilitation center. Lord knows Carol could use some extra protection out there. Especially after the scenes for next week's episode …
Are Carol and Daryl about to die?
The preview for next week shows Daryl leaving the compound, presumably to go after Carol. We also see his motorcycle hidden in some bushes, which makes us fairly certain that he and Carol have been captured. We were already worried that Carol and/or Daryl could be the ones to die in the season finale, so now we're officially in panic-mode.
Want more reasons Daryl might end up dying? Read it and weep.
(All The Walking Dead images via Gene Page/AMC)