(Image: www.tumblr.com)
Hey guys and gals. I hope you are all doing okay after that shocking episode. If you are reading this and you aren't caught up, WHAT ARE YOU DOING HERE?! Go on, get! This is spoiler central and we have some theories that we need to discuss.
Theory #1: Becca and her black goo saved humanity.
In Thirteen, we saw Becca injecting herself with black goo and she had already put the AI chip (called the Flame) into her neck. She fights with the crew on her space station and tells them that she has to save humanity and that ALIE 2 is the only way to do that. Becca willingly let the people on her space station die on Unity Day and she did it with a calm, cool and collected attitude leading us to believe that she is either insane or an evil genius, or maybe both, right? WRONG!
When Becca lands in the Polaris pod, her suit indicates that the radiation levels are super high, yet she throws her helmet aside. Why? Because her black goo protects her from the harmful radiation. And that suitcase of chips with the black infinity symbol? Those have the black goo in them and saved the survivors on the ground from the radiation as well.
She really did save humanity.
Theory #2: Clexa will meet again.
Lexa as we know her may be gone, but she is not gone forever. Clarke will go to the City of Light, but not the Jaha one. I don't think that the Jaha City of Light is the same as the Flame/Commander one (ALIE 1 was trying to find it too). Clarke and Murphy know the most about this so when they go back to Arkadia, they will put this all together. As the ALIE 1 conflict grows, something will make Clarke think that she needs to talk to Becca and Clarke will have the Flame put into her. Titus will help because of his guilt. Clarke will get what she needs in order to shut ALIE 1 down and save the people who have already taken the chip. The best part? She will get one more moment with her Lexa.
Theory #3: Clarke is actually in love with ALIE 2.
ALIE 2 was in Lexa and all of the Commanders. Clarke may fall for the next Commander too because they are all connected/influenced by the Flame. Clarke may actually be in love with ALIE 2 but we won't really know how strong the pull of the Flame is until we see it in someone we already know to see how it changes them, like Clarke. (See Theory #2 above.)
Theory #4: Lincoln will die and it will be Bellamy's fault.
Oh man, this hurts me. O's only true allegiance has been to her brother but this season it has shifted to Lincoln. With the casting news of Ricky Whittle being the lead on American Gods and his mom's tweets, it's pretty obvious that he will leave the show. His (likely) death will be a catalyst for some major Blake family drama and it won't be pretty. Bellamy Blake will crumble when he loses his sister's love and respect and it will be because of Lincoln's death. Octavia will blame Bellamy and it's going to suck.
WHOA.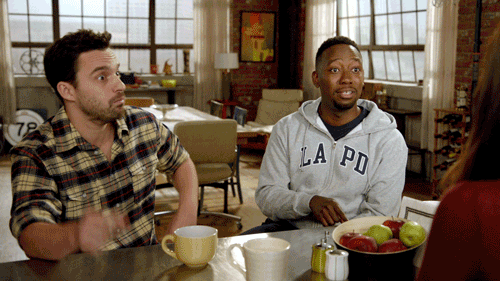 Oh, man. The rest of this season is going to be CRAZY! You know our theories. What are yours?! We want to hear them! Sound off in the comments or find me on twitter AND hit our The 100 Fandom Page for all of your The 100 news, recaps and polls!
May we meet again!
The 100 airs Thursday nights on The CW at 9/8c.