(Image: nerdist.com)
It's on ya'll! The Gilmores are coming back and we are so frickin' excited! I caught up with Liz, Surya, Courtney, Meghan, and Cecile of PureFandom to weigh in on their thoughts and predictions for the revival!
Luke and Lorelai: What is the state of their relationship? 
Liz: I feel like four ninety minute episodes aren't enough to fix something if they aren't together. The show needs to focus on Lorelai and Rory, with their men being in the sub-plot (of course those storylines are always parallel … but you guys know what I mean.) WITH THAT SAID, Luke and Lorelai better be together with some witty-ass banter and healthy arguing; maybe one major fight with Luke saying something cute and them having adorable makeup you-know-what. It's what we all want, LBH.
Courtney: Since we're picking up 8 years later I need these two settled and married. I actually had a dream not long after the announcement that they did indeed have twins named Leopold & Loeb lol. Will everything be hunky-dory perfect? No way, but I don't need things back at the start. If they were picking up at the series finale and hopscotching through time then, yes because I want to see them getting married under the chuppah. Hopefully, we'll see wedding pics showing everything.
Cecile: Hm. You know, I've actually been back and forth on this because I used to really like them together but I've been rewatching the series (yet again) and I find myself more enclined to see her with…Chris?! Listen, I know he can be super immature but I like to think he's grown over the series and they have so much chemistry and work so well together. More than that though, while Luke definitely loves her and wants what's best for her, I just don't see her being able to settle with a guy who doesn't have much of an education and really doesn't come from the same world as her. (Oh my God, I'm turning into Emily haha! Which would be awesome because Emily is the best aside from when she manages her daughter's life buuut anyway). So yeah, I'm actually hoping they aren't together but I expect they will be. I wonder if they have kids!
Surya: I'm hoping Luke and Lorelai are married. I can't wait to hear them argue but be the perfect blend of opposites. He loves her completely and is everything she wants in a partner.
Meghan: Still together – at least I hope so. I loved their fun, loving relationship. And God DAMN it took them long enough to get together. If they aren't still, then I hope they stay apart bc another bunch of "will they or won't they" will drive me nuts.
Meg: They will be together but I think we won't know that for sure right away. I like the idea of them finally on the same page and being totally honest. I am also hoping that ASP can fix the damage of Season 6 Luke. He was sort of a tool for a while there.
Rory's love life- Dean, Jess, or Logan and WHY?!
Liz: JESS. HERE'S WHY: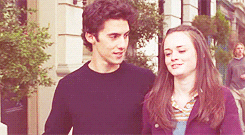 OK but for real, they both are epic loves, and they will get bored/tired/feel like something is missing with anyone else. They were lost in adolescence when they found each other, and they grew up knowing they weren't ready to fall back into each other … yet. Jess found self-love through writing, and he's ready to give Rory what she needs: AKA, what we all need … MORE JESS!! I love me some Logan, but he was her at-the-time-love, not her epic, forever one. Rory won't spend every night dreaming of Logan and what they had, but she would about Jess. They may be fucked up, but they are an epic romance, and that always wins.
Courtney: Hmm, okay. Dean was her first love and that ran its course. Logan was her college love that she left behind while she figured out who she wanted to become. Jess. Oh, my boy Jess was always her perfect match. Just the right mix of bad boy and smart enough to keep up with her. He had so many issues, but there love was so unfinished. He went off and became something better. He was the only one who could reach her when she was at her lowest point. They were perfect for one another. He's her Luke. Logan was her Christopher and we all know how they worked out. If she doesn't end up with Jess, I'd actually like to see old Marty finally get a shot. He was such a good guy.
Cecile: #TEAMLOGAN Similarly to my riveting journey with Luke/Lorelai, I used to love Jess (the first time I watched the series as a whole I was still in my teens and Jess was the lovable bad boy every girl wants to have at some point. Also he was such the opposite of Dean, whom I couldn't stand, that he automatically seemed the better choice to me!), but I've gotten over that and now it's Logan all the way. He and Rory completed each other and brought out the best in each other. He truly loved her and even though he hurt her at some points, I really liked their dynamic and he's the only one I could see her going back to.
Surya: So, I'm with Cecile on Team Logan. Dean post marriage was super angry and should consider getting the self love book. Jess loves her and got his life together BUT, he hates the Gilmore world with its fancy dresses and multiple course dinners. Rory liked having the best of both worlds. Lorelai hated the dresses and people but Rory didn't mind and she loved meeting important people and traveling. Logan can stomach Stars Hollow and he sure as hell can charm Miss Patty. Logan grew because of Rory and 8 years gives him the ability to really become a stand-up guy. He pushed Rory but, gave her space when she needed it. He was the only one who did things the right way (in a sense) with Rory. Dean had an affair with Rory that he seemed content with continuing if Lindsey hadn't seen the letter. Jess wanted her to just drop everything and run away. Family is everything to Rory. Logan was also loved by Richard and Emily. Lorelai might've warmed up to him since the finale. Plus, Rory didn't hit it and quit it. She asked Logan to get married later so she could work on her career. I hope they're together if not married.
Meghan: When it opens, I hope none of the above! I want Rory to be off doing her Christiana Amanpour thing without latching on or having a guy dictating her decisions. It was one of the few, FEW things that drove me nuts … that she was always tied to a dude until the end, which is why I loved it. That being said, I hope by the end of the arc, she reunites with Jess (obvi) and they've both been successful and awesome in their own ways and now can be together.
Meg: JESS!!!! They are meant to be but met when they were too young for it to work. I think that they will for sure end up together. They have gone off to do their own thing and become their own people so now, they really have a shot at a mature relationship. Logan played out and Dean was never a great option. It's always Jess.
Outside of the major cast, which Stars Hollow resident are you most excited to see back?
Liz: I wish Sookie … but I'll settle for Michel.
Courtney: Kirk! I need to know all the jobs where he's been working. Oh and Mama Kim. She is wise. I'd actually like to see her cut loose though.
Cecile: Is Miss Patty coming back? Because if so, definitely her!  "Have a plum, it's better than sex!" iconic!
Surya: Lane, Zach, and their twins! Also, Kirk babies. Can you imagine how crazy the town would be with them running around??
Meghan: Paris. Unless you count her as main cast. But really…she was my favorite then and I still watch shows with Liza Weil because I love her.  Otherwise. Michel. Love that sass. Or Emily. Same reason.
Meg: I want to see Miss Patty! She was the best! I hope she has a hot, young husband!
Give us a prediction for how they will end the series! 
Liz: Rory and Lorelai watching a movie that's been taped on VHS (with commercials, obvs), eating 5 different kinds of take out with a shit ton of wine, while Luke and Jess sit in the kitchen slinging back beers, happy as clams that they've married the girls of their dreams.
Courtney: Rory giving birth to her own Lorelai and baby Richard (yes, twins)!!! This is after she wins a Pulitzer of course and married Jess. Rory is with her mother looking at their family and then come those final four words.
Cecile: Oh god, I'm the worst at predictions. Rory and Paris will decide they don't need men and will ride off into the sunset together. (Have I mentioned how much I love Paris? No? SHE IS THE AWESOMEST)
Surya: As Courtney said, the four final words! I'm also thinking a pan out of our favorite town, the house, and the Gilmore residence. They'll definitely make sure Richard is remembered. Or a Friday night dinner with the whole family. Though someone's idea of the Gilmores watching tv with a bunch of fast food is 100% probable and it would be great!
Meghan: I'm 98% on board with Liz's prediction.  OR they are walking with coffee through the Stars Hollow square. Something easy but very throwback.
Meg: I want a new tradition. Like Lorelai hosting Friday night dinner at her house with Jess, Luke, Rory and Emily. I also want a moment between Emily and Lorelai where Emily tells her she is proud of her. Or loves her or both! I think they need that moment.
Overall, what are you most looking forward to about the revival? 
Liz: The dialogue. The writing was so damn good … I hope it hasn't lost its magic!!
Courtney: A proper ending for my favorite show of all time. I was so disappointed with most of seasons 6 & 7. Then when they were finally back on track it was over. Talk about feeling cheated. I'm looking forward to jumping into this world again with all of my favorite people in the town I wish I could live in and finally hearing those final four words being spoken.
Cecile: Anything. Everything. I'm so excited I can barely talk about it! Seeing the town again, learning what our favorite characters are up to, finding out if Kirk ever got a cat that didn't traumatize him, seeing Emily be Emily and Paris manage everyone. I can't waiiiiiiiiiiiiiiiiiiit!!
Surya: Just seeing all our favorite characters again. I can't wait to see all the places and craziness. I'm sure reviving these characters wasn't something the actors thought they'd be doing when they filmed the finale. I can't wait to see Emily. I'm excited to see how Lorelai and Rory's relationship has changed. Lastly, I'm scared but glad that they're going to honor Richard. He was incredible.
Meghan: The quick back and forth and overall chemistry of that cast. That show made my heart happy and I can't wait for that again.
Meg: All of it. I am so happy to have more of these characters and that community. I want to see the town traditions and all of the quirky residents! I want Lorelai to win the Dance Marathon, I want them all to be happy and I can't wait to hear the last four words! I seriously can't wait!
What are you most excited about? Tell us in the comments! We are all in this wonderful fandom together, so let's celebrate, chat and predict!
Gilmore Girls will hit Netflix in 2016. Stick with PureFandom.com for all of your Gilmore Girls Revival coverage! Let's dance it out!