Image source: zap2it.com
These are predictions for 'The Walking Dead' season 6B.
The Walking Dead is (FINALLY!) returning to our screens on Valentine's Day, and after that insane mid-season finale we have a ton to look forward to: Negan and his barbed-wire bat Lucille; Rick & Co. dressed in zombie-gut garb; Maggie stranded whilst Glenn watches in the distance … the struggle is real, y'all.
We left off with the fall of Alexandria and the introduction of a new threat – possibly the most dangerous threat our apocalypse survivors will ever face: Negan and his minions. Let's break down what we want to see when The Walking Dead returns.
1. Glenn and Maggie to reunite
Yes, it's a hopeless wish; and yes, it probably won't play out with a happy ending. BUT, this isn't Game of Thrones – showrunner Scott Gimple isn't that big of a heartbreaker that he won't give our favorite characters a proper send off. Even when Hershel had his head chopped off we had some sort of f**ked up closure, as he made peace with what was about to happen to him.
Oh, you're mad we gave you a Hershel spoiler? First off, if you aren't caught up you shouldn't be reading this article, and secondly, get out from under that cable-free rock you're living under and catch up already.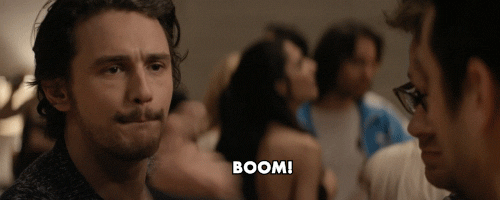 2. Carl to continue to not be the worst kid on TV
Remember when we all hated Carl and didn't feel bad about it? He never stayed in the damn house and was the biggest pain in the ass on television. This season, he's grown to accept and understand the world he lives in, and better yet – he's learned to respect and listen to his dad. When you shoot your mom in the face after she gives birth to your baby sister, though, we guess that's bound to happen.
Can we continue this redeeming streak? Is it also bad if we're fine that he kicks Jessie's son's ass? (Ugh, that garage scene still pisses us off.)
3. Carol to continue to be the queen of the apocalypse
Say what you will about Carol's motives, but she – like Rick – has fully accepted the world they now live in and what they will have to do to survive it. Plus, there's no turning back after putting the fear of a herd of zombies in a 12-year-old.
We are super, super excited to see the interaction between Carol and Negan. Negan is being built up to be the meanest, most cruel character we've seen yet on the show, and he will be a true test to Carol's bravery. What we love about Carol is that while she's a cardigan-wearing badass, she also lets her vulnerability show. She's not happy that she has to do the things she has to do, she's just accepted that she's going to have to do horrible things in order to live. How far will Negan push her?
4. Daryl to survive
Oh, quit your groaning. Don't kill him, OK? Just, don't.
5. Negan to live up to the hype
Like we've said, Negan is supposed to be so mean that he'd make The Gov shit himself. We aren't sure if we even want to see a hidden soft-side from this character (please, don't let him have a secret chamber full of zombie heads in water tanks.) Having not read his storyline in the comics (we're holding out so to not be at risk of spoilers), we hope to see a true villain. Gareth (played by Andrew J. West) was definitely an evil villain, but he was also whiny. We anticipate that Negan won't put up with any bullshit or back down for anything – or anyone.
What are you hoping for when The Walking Dead returns? Sound off in the comments below and catch the premiere on February 14 on AMC at 9pmEST, and keep up with The Walking Dead news on PureFandom.com!