Image: BBC
Warning … there are spoilers all over this page. Hit the back button now if you want to watch the new episode Saturday without knowing anything. With that said, let's continue.
You can almost hear the faint sounds of the TARDIS materializing, cant you? With just a few more days left before the first episode of Doctor Who series 9 begins, what tantalizing things do we know about this series so far? As it turns out, there just happens to be quite a lot that has been revealed so far.
BBC released all of the episodes titles along with some other tidbits for the season which you can check out [here]. Spend some time on that page, there is quite a lot of news there. Some of it rather ominous and some of it wondrous. I'll go over some of the things that I am looking forward to but seriously, check out the video's on the BBC site.
River Song (Alex Kingston) will be returning for the Christmas episode that is set to air on Dec 25th, 2015 on BBC America. Yes, I know this is totally confusing but trust in the Moffat.
Moffat said of River Song's return, "Another Christmas, another special for Doctor Who—and what could be more special than the return of Alex Kingston as Professor River Song? The last time the Doctor saw her she was a ghost. The first time he met her, she died. So how can he be seeing her again? As ever, with the most complicated relationship in the universe, it's a matter of time …"
Missy (Michelle Gomez) is back in the two-part opener where she will be teaming up with Clara Oswald (Jenna Coleman) to find the Doctor. The dynamics behind that relationship should be such fun to watch. If you remember from last season, Missy trapped Danny Pink's (Samuel Anderson) soul in the Netherspere along with turning him into a Cyberman. Neither of which worked out well for Danny. Seeing Missy and Clara work together should be interesting to say the least.
Now I want you to have a good look at this picture since I actually missed it the first time by. Take a look at Missy's left wrist and Clara's left wrist. Notice anything that looks like a vortex manipulator? Wonder who they got those off of?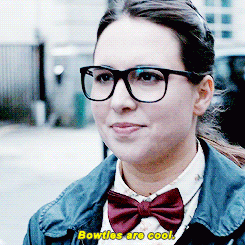 Speaking of Missy and death, two things that seem to go hand in hand, Ingrid Oliver has returned to portray Osgood. Yes I know, Missy killed Osgood in Death In Heaven, but I am sure there is a plan. If you look at the BBC title reveal, she is to return in episode 7 and 8 which deal with the Zygons. Seems that even Oliver was surprised by the news as well.
"I was so sure Osgood was a goner after the last series!" Oliver revealed, "As every actor who's worked on Doctor Who will tell you, there's always the secret hope you'll get the call asking you to come back. To actually receive that call is both unexpected and brilliant. The word 'honour' gets banded about a lot, but it really is, it's an honour."
Maisie Williams, Ayra Stark from Game of Thrones, will entering the realm of Doctor Who, appearing in episode 5, "The Girl Who Died". Hold on … Arya Stark and the Many-Faced God. The Doctor regenerating with many different faces. Clearly that is a coincident, right?
Williams will play an important part, but who is she to the Doctor? For that we go to a quote from the man himself when asked who she was playing in Doctor Who?
Steven Moffat remained tight-lipped. "It's not possible to say too much about who or what she's playing, but she is going to challenge the Doctor in very unexpected ways." He added, "This time he might just be out of his depth, and we know Maisie is going to give him exactly the right sort of hell."
Here is a promo video from the Doctor Who YouTube page with Steven, Peter, and Jenna discussing the new series.
Here is the full length trailer for Doctor Who series 9 which gives you a good hint at what the adventures with the Doctor and Clara will be like this year. Looks like they will be doing a lot more intergalactic travel than last year which is something I am looking forward to. We spent a good amount of time grounded to Earth last year. We live vicariously through these characters, let's go see places we haven't seen before.
Trailer #2 has the same old, same old with the Doctor and Clara Oswald in the TARDIS.
Finally, here is the first trailer "The Magician's Apprentice", episode one of Doctor Who series 9
I don't know about you, but all of this news really has me looking forward to Doctor Who on Saturday.
Doctor Who officially returns for season 9 to BBC America on Sept. 19, 2015.