(photo: HBO)
Today is the day! The long awaited return of HBO's smash series, Game of Thrones, returns tonight at 9:00. The Season 3 finale certainly left a lot up in the air, with character's fates unknown and winter still coming.
In anticipation of tonight's season premiere, here are 8 things that will never really happen, but that I hope will happen in season 4:
1. Jon Snow and Ygritte live happily ever after: So, he played her for a fool and she shot him up with arrows. Who cares? I have to believe that their love is real and that they can move past this. If it came down to it, I can't imagine Jon Snow letting Ygritte die. Of course, I'm probably wrong, but this is my wish list dammit and I want them to get married and have little half-Wildling, sword-weilding babies. Who knows. After that cave romp, that might not be too far-fetched.
2. Daenerys and her babies barbeque Joffrey: …and Cersei for that matter. It's not likely that Khaleesi makes her way to King's Landing anytime soon, but nothing would give me more pleasure than to see her deliver Joffrey his overdue death. Joffrey is easily the nastiest, most hated character on TV. I think his days are numbered and I wouldn't mind if when he goes, he takes Cersei with him. Just imagine Khaleesi's dragons swooping down and roasting Joffrey. It would be glorious.
3. Something good happens to Tyrion: Poor Tyrion is always getting shit on. Remember Tywin denying Tyrion Casterly Rock and telling him he killed his mother and now he has to watch him "waddle around". He's constantly in the shadow of Jaime and Cersei, but he is the most noble man on the show. I'm crossing my fingers that his bad luck runs out and something awesome happens to him this season. Oh, and I'm praying there's still hope for him and Shae.
4. Arya and The Hound kill Walter Frey: I don't mean to bring up the Red Wedding but… Walter Frey must die. Arya knows what happened and she's freaking pissed. Yes, she needs to find what's left of her family, but I'd love to see her go into full-blown revenge mode with The Hound by her side. She's the most bad ass pre-teen this side of The Wall. Maybe she can use her coin and call upon the Faceless Man of Braavos (Jaqen H'ghar) to help them out.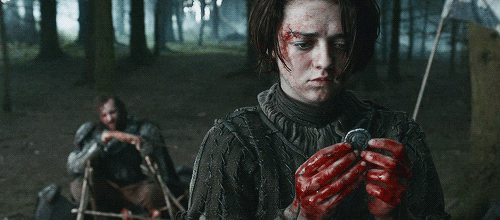 5. Hodor expands his vocabulary: Hodor can only say one word: Hodor. Hodor is the man! He carries Bran around and protects them, which is honorable and exhausting. I just feel like with all the traveling they do alone, they definitely have time to teach him some new words.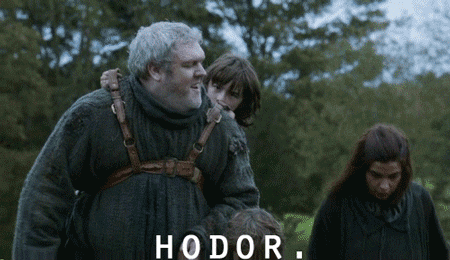 6. Margaery and Sansa team up and become besties: Margaery has a good heart (maybe), and Sansa needs a good girlfriend right about now. What if the two of them create a secret alliance to take over? Then, when Daenerys and her dragons swoop in and take out Joffrey and Cersei, the three girls can rule the seven kingdoms together. Who run the world (well, part of it)? Girls!
7. Jaime Lannister proves he's not an asshole anymore: Jaime did some serious growing during his time with Brienne of Tarth. With the loss of his hand, he gained some humanity and humility. I think she's taught him to look at the world in a completely different way. Now, we just have to hope that he proves that he's no longer a piece of shit. He did push Bran out of a window, so any improvement would be welcome.
8. Khal Drogo comes back to life: Hey, you never know what can happen on this show. Just imagine Khal Drogo coming back to life so that he could be with the moon of his life forever and rule Westeros by her side. I will NEVER get over his death.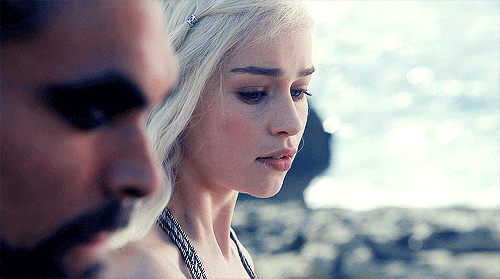 I could go on forever, but I'll stop there and let you tell me what YOU want to see happen. Sound off with your hopes, dreams and wishes for season 4 in the comments below!
If you want some more realistic expectations for the season, check out this Entertainment Weekly article featuring showrunners David Benioff and Dan Weiss.