(Image: kingoftheflatscreen.com)
This week our #WCW is Marie Avgeropoulos but "crush" may not be a strong enough word, because we LOVE her! Behind the awesome hair and smoky Grounder eye makeup is Marie and she is AMAZING! She is a full-on nature girl and loves fishing, hunting and camping. She isn't big into social media but when she does pop over to Twitter, she is thanking the fans for their support and chatting about The 100. This incredibly beautiful gal even does some of her own stunt work!
Marie likes surfing, playing the drums and riding her Harley. I can't do any of those things but we both like pizza, so I think that's enough to build our future friendship on, right?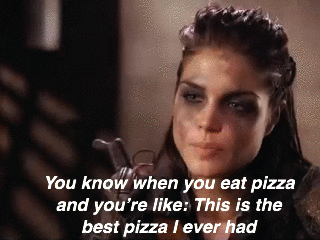 I do, Marie, I do.
On The 100, Marie plays Octavia Blake, the girl that was jailed for being born. Octavia's journey is so dynamic because we get to watch her discover who she truly is and on her own terms. She went from angry teenager to warrior Grounder goddess over the course of the last two seasons. Octavia breaks out of the floor boards, so to speak, when she identifies with the Grounders more than her own people and embraces her true self.
Thank you for being our #WCW Marie! You are a bad-ass both on-screen and off. We can't wait to see what Season 3 has in store for Octavia!
Catch Marie tomorrow night when The 100 returns to The CW January 21, 2015 at 9/8c.